When it comes to selecting a medicine cabinet, Mallory Micetich, an Angi home care expert, emphasizes that "size, style, and functionality are the key factors in choosing the right medicine cabinet for your bathroom." Today, we will recommend bathroom cabinet ideas that excel in these three criteria. If you require efficient bathroom storage, read on for inspiration!
1. Wall Mounted Medicine Cabinets
Corner bathroom cabinets make optimal use of vertical space, especially ideal for compact bathrooms. However, it's crucial to consider the distance between the bathroom wall storage and the washbasin to avoid inconvenience. Here are three intriguing wall-mounted medicine cabinets from Tangkula:
Mirrored Medicine Cabinet
This medicine cabinet organizer complements modern bathroom designs, particularly appealing to minimalists. Its shelf can accommodate various daily essentials such as cleansing milk, makeup remover, toothpaste, shower gel, shampoo, tissue, and more. Tangkula introduced this bathroom mirror with storage as a new addition in September, showcasing a contemporary design.
Dimensions:
Cabinet - 24" x 8" x 20" (L x W x H)
Mirror - 18" x 14" (L x W)
Features:
Vanity Mirror
Removable and 3-Position Adjustable Shelf
4 Drawers of 2 Different Sizes
Cabinet with Open Shelf & Bar
For those who prefer towels over disposable alternatives, a small medicine cabinet with shelf bars offers convenience. The towel bar saves space by replacing a separate towel rack. Additionally, the open shelf makes it easy to reach often-used items.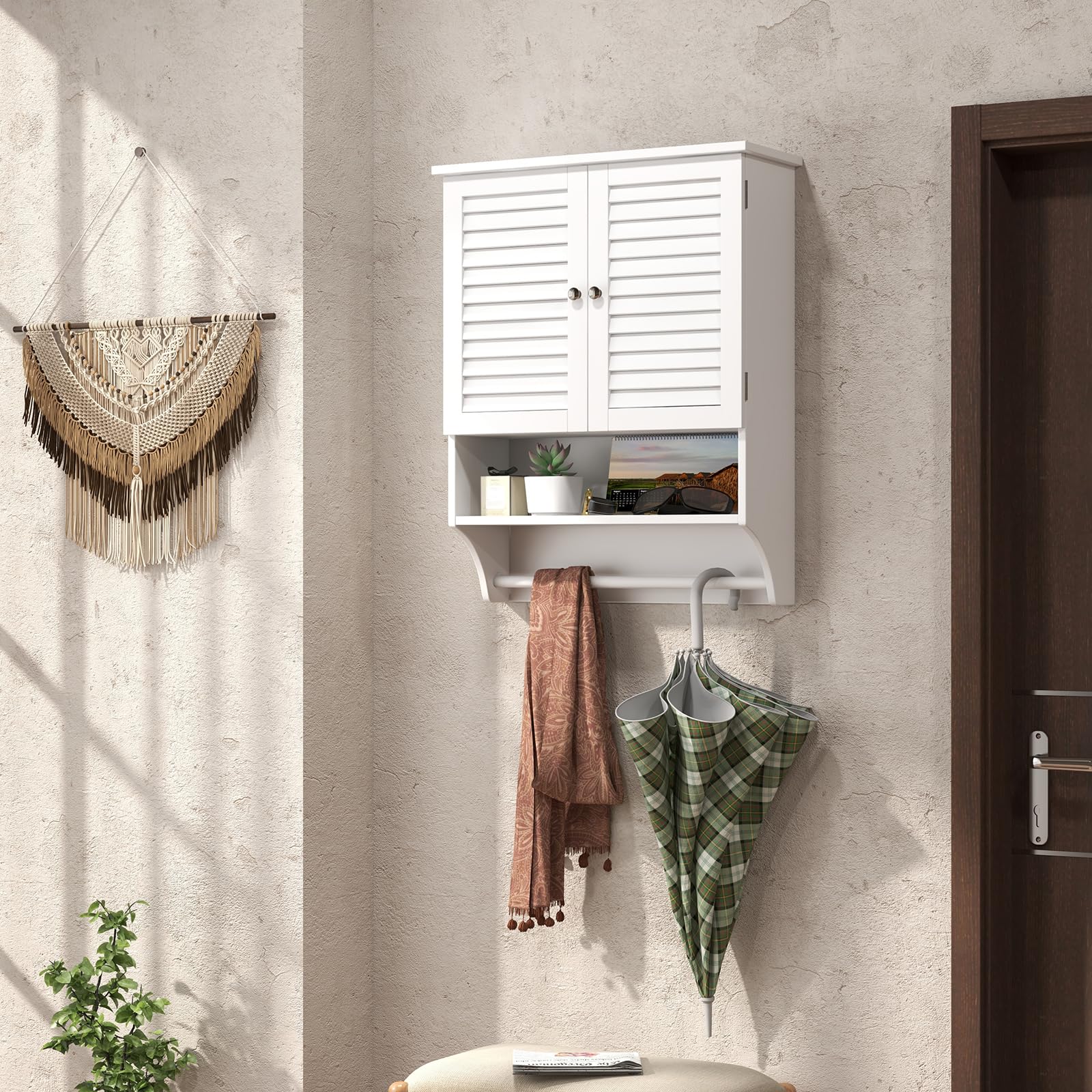 Dimensions: 23" x 9" x 30" (L x W x H)
Features:
Towel rack
Open Shelf
Handy Round Knobs
Magnetic Catch
Customer Review:


"Was looking for a new bathroom organizing shelves when I came across this. This modern medicine cabinet took about 20 mins to assemble and the rack looks pretty sturdy. Can't wait to put it on my wall when my bathroom is finish. So far loving it!"
Modern Mirrored Bathroom Cabinet
Upgrade your home decor with our small bathroom cabinet with a mirror. Its sophisticated white finish seamlessly complements your existing furnishings.
This corner medicine cabinet has two levels and a mirror. It can store linens and bathroom items and protect them from moisture and dust. Constructed from a durable MDF board, small bathroom storage ensures long-lasting durability. Elevate your space with a blend of style and functionality—acquire yours today!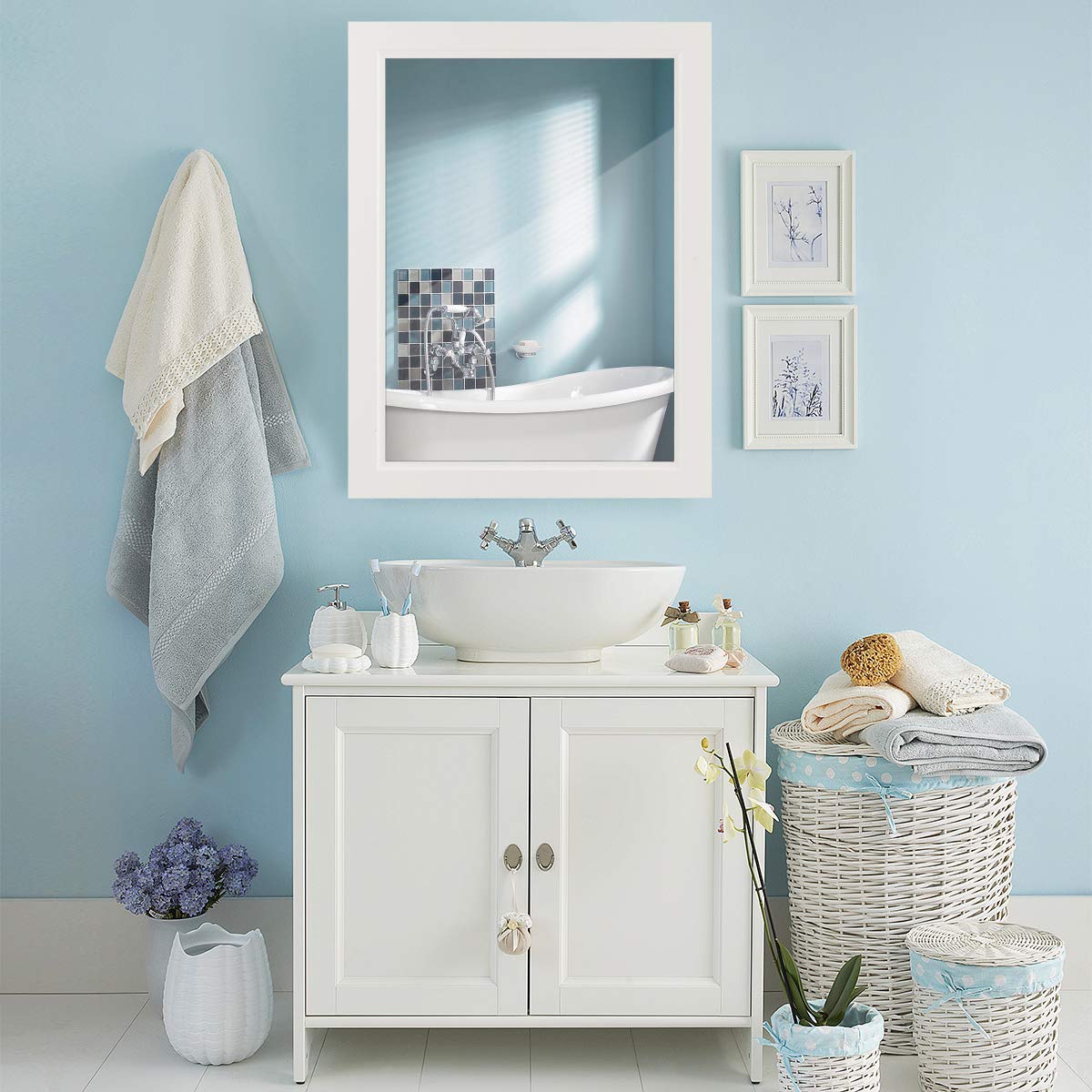 Dimension of mirror: W16" xH22"
Dimension of cabinet: W17.5"xD5"xH24"
Features:
Mirror
Adjustable Shelves
Customer Review:


"As is, door attaches on right. Wasn't aware of that when purchased, so I drilled a couple of holes so that door could be hinged on left instead. Also, it's quite deep, so I recessed it into the wall 2 or 3 inches so that it doesn't stick out as far. Mirror is not fog-free. This wall cabinet seems sturdy for the price."
2. Over The Toilet Storage Cabinets
Over-the-toilet storage cabinets are excellent for storing toilet tissue, aromatherapy, and other daily bathroom necessities. They are space-efficient and grant quick access to frequently used items.
Over The Toilet Storage Cabinet
Crafted from top-tier materials, this cabinet ensures safety and longevity. It features soft-close hinges, anti-toppling mechanisms, and adhesive screw stickers for a flawless finish. This exceptional cabinet promises to declutter your bathroom and add a touch of elegance.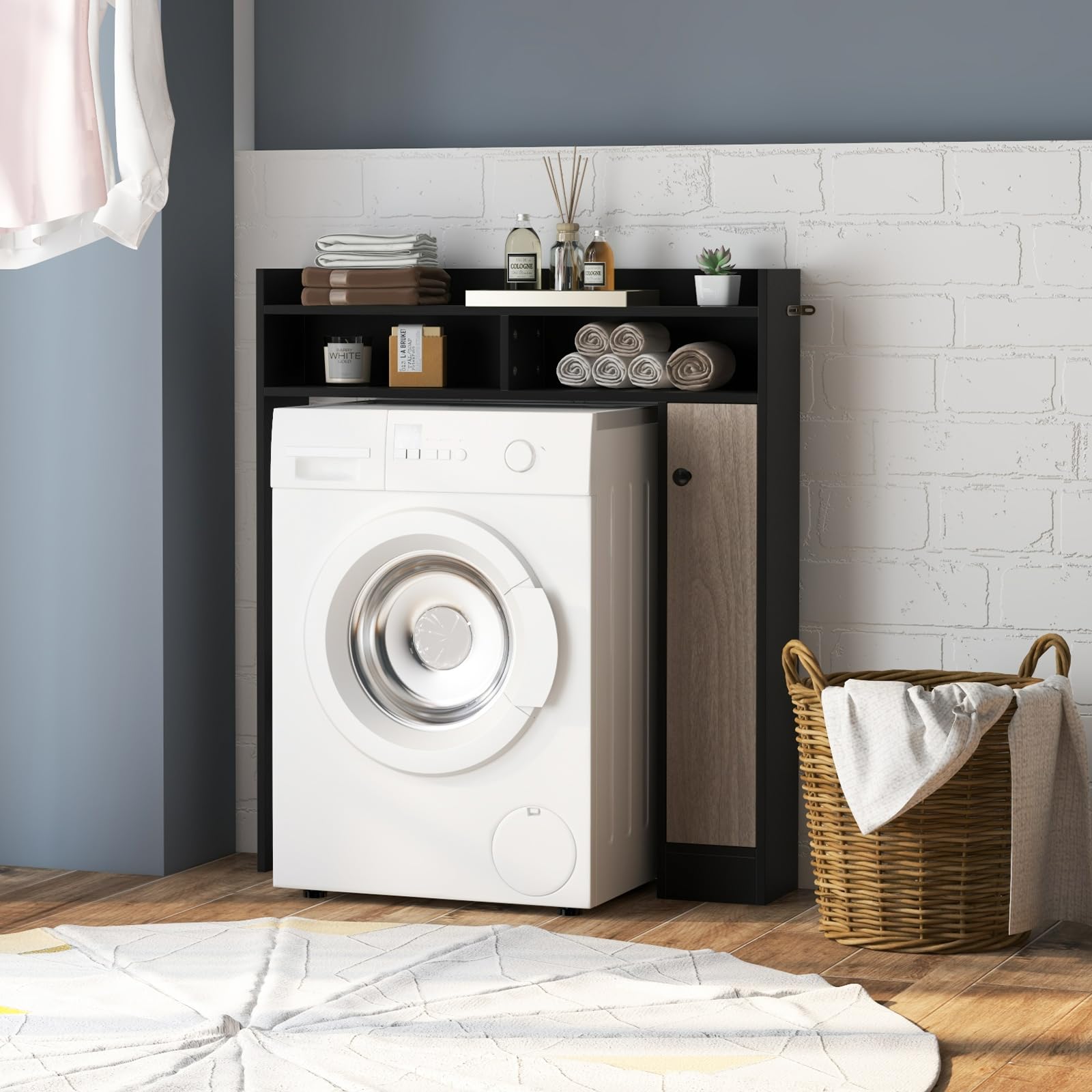 Dimensions: 34.5" x 7" x 39" (L x W x H)
Features:
10-level adjustable shelf
2 open compartments
1 enclosed cabinet
Customer Review:


"Absolutely in love with this new addition to my bathroom! You definitely have to make sure and do your measurements correct or it's not going to fit right. Highly recommend."
Freestanding Bathroom Organizer
Enhance your bathroom with this Over-the-Toilet Storage unit. It fits most toilets, maximizes wall space, and offers adjustable shelves for customization. The sturdy build and elegant design provide ample storage for essentials and decorative items. With a waterproof surface, the white bathroom cabinet complements any decor.
Dimensions:
Overall - 23.5" x 12" x 68" (L x W x H)
Ground Clearance - 19" x 32.5" (L x H)
Features:
Anti-Toppling Device
Adjustable Interior Shelf with 3 Different Heights
Open Shelf
Customer Review:


"Word of advice - make sure your pipe that runs from your toilet to the wall is measured to fit either underneath or above the back board to the bottom of the furniture. I ended up making a small modification to make it work but it would have been great to know about that ahead of time. The doors screwed on unevenly initially. So what I did was complete the entire assembly, stood it up, and then redid the hinges. It's perfect now. I also mounted this bathroom cabinet organizer to the wall for safety. Highly recommend."
Bathroom Space Saver
Elevate your bathroom with this versatile toilet storage unit. It combines open shelves and a toilet paper holder for easy access to your essentials. The three-tier side cabinet offers discreet storage, with adjustable shelves to accommodate various items.
Its modern design and white finish add style to your space, while the 31.5" height maximizes vertical storage. Crafted from durable MDF with an anti-toppling device for safety, it's easy to assemble and suitable for various rooms. The waterproof surface simplifies cleaning, making it a functional and stylish storage solution.
Dimensions:
29" x 8" x 41.5" (L x W x H)
Features:
Anti-Tipping Device, Height Adjustable Shelves
Customer Review:


"This above the toilet storage is very easy to assemble. Measurements are accurate as it fits perfectly in my bathroom. Cabinet is petite, good for paper roll or hiding space for feminine products. Sturdy built and smooth surface."
3. Storage Cabinets
Unlike other bathroom storage furniture, storage cabinets are ideal for organizing multiple daily essentials, like cleaning supplies. The slim tall cabinet optimizes vertical space in small bathrooms.
Tall Bathroom Storage Cabinet
Upgrade your bathroom organization with this bathroom linen cabinet. Durable interior design with metal legs, adjustable foot pads, and an anti-toppling device for safety. Upper and lower cabinets, open compartments, and storage drawers offer ample space for your essentials. Three adjustable shelves fit in small spaces in the bathroom, living room, kitchen, entryway, etc., blending with any decor.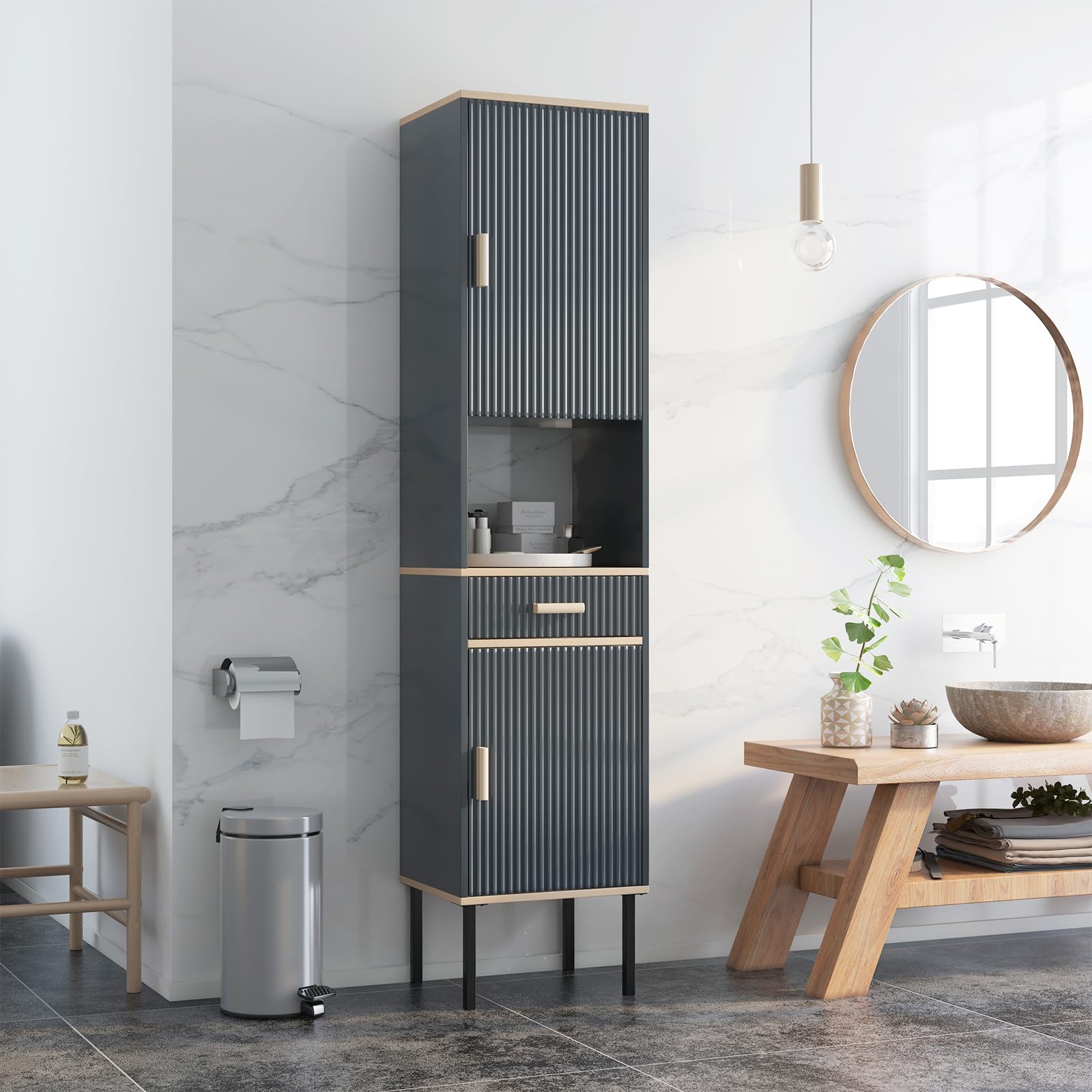 Dimensions:
Overall Dimension: 16" x 14" x 70" (L x W x H)
Inner Drawer Dimensions: 12.5" x 11.5" x 2.5" (L x W x H)
Features:
Anti-Toppling Device
Non-Slip Toot Pads
Smooth Slide Rails
Adjustable Shelves
Customer Review:


"Very pleased with this product! It fit perfectly into the spot that I needed for my bathroom remodel. This bathroom drawer organizer is probably the first piece of furniture that I have put together that all of the parts were properly labeled in separate bags and all the pre-drilled holes matched perfectly with the nails or screws.
Bathroom Towel Cabinet
Embrace compact storage with this freestanding 3-drawer bathroom floor cabinet. Despite its slim profile, this narrow bathroom cabinet offers three spacious drawers for versatile storage, accommodating everything from bathroom essentials to daily items.
Convenient cut-out handles and an anti-toppling device ensures easy access and safety. Built with a sturdy MDF structure and a rear anti-tipping feature, the bathroom corner cabinet guarantees overall stability. Its elegant and simple design makes it a versatile addition to modern, mid-century, or any home decor.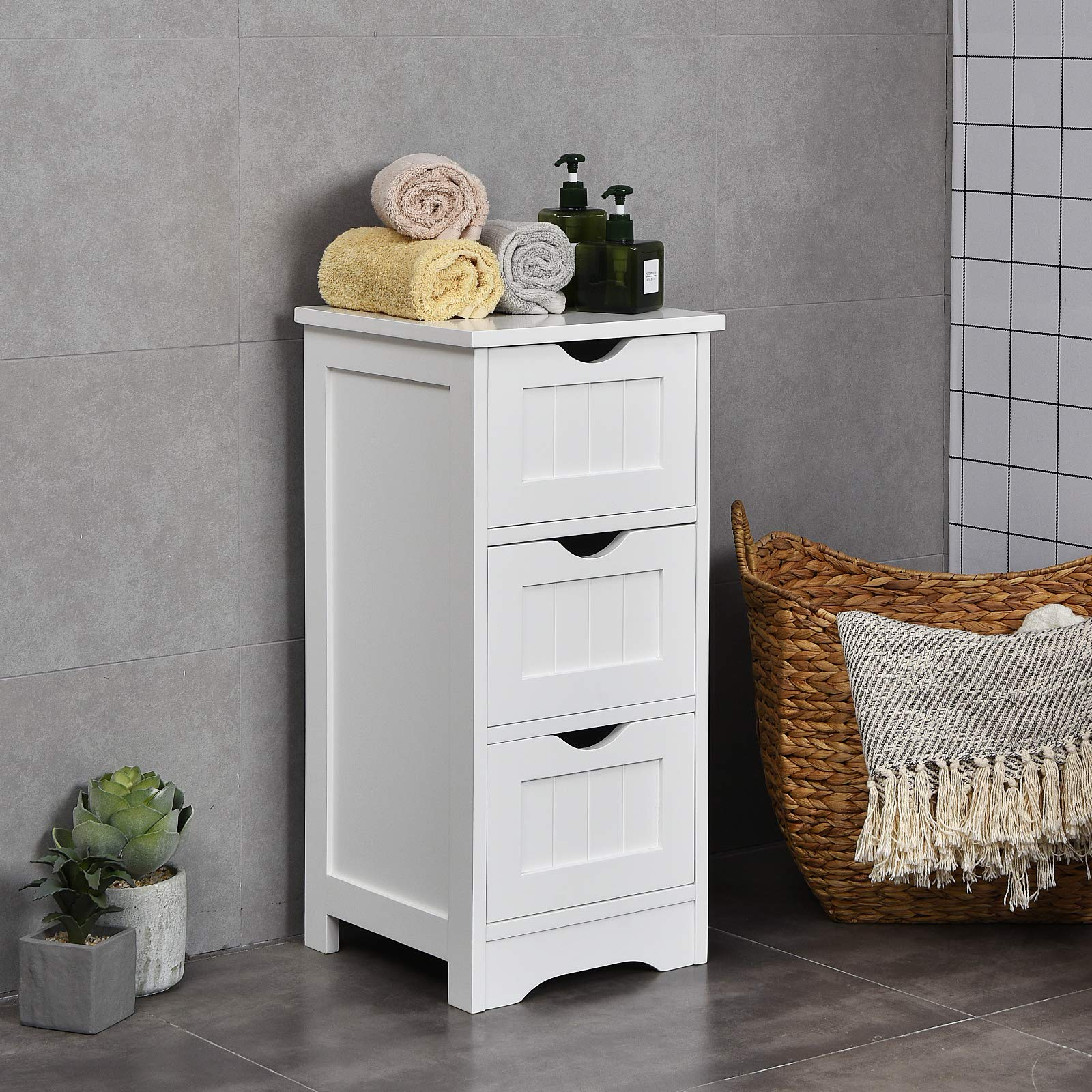 Dimensions:
Overall Dimension: 12" x 12" x 25" (L x W x H)
Drawer Inner Dimensions: 10" x 9" x 6" (L x W x H)
Features: 4 or 3 drawers
Customer Review:


"Needed to replace a small cabinet in the new living room from brown to black. This was the perfect size to put a lamp on and just right for some cd storage and assorted items. Directions could be a little more detailed, but okay. Used wood glue on the dowels and pretty easy to assemble.
5-Tier Wooden Freestanding Tower Cabinet Floor Organizer
You can place this cabinet not only in the bathroom but also in the living room, bedroom, or dressing room for extra storage. The drawers provide a great place for T-shirts and jeans, offering extra space for storing your clothes and daily necessities.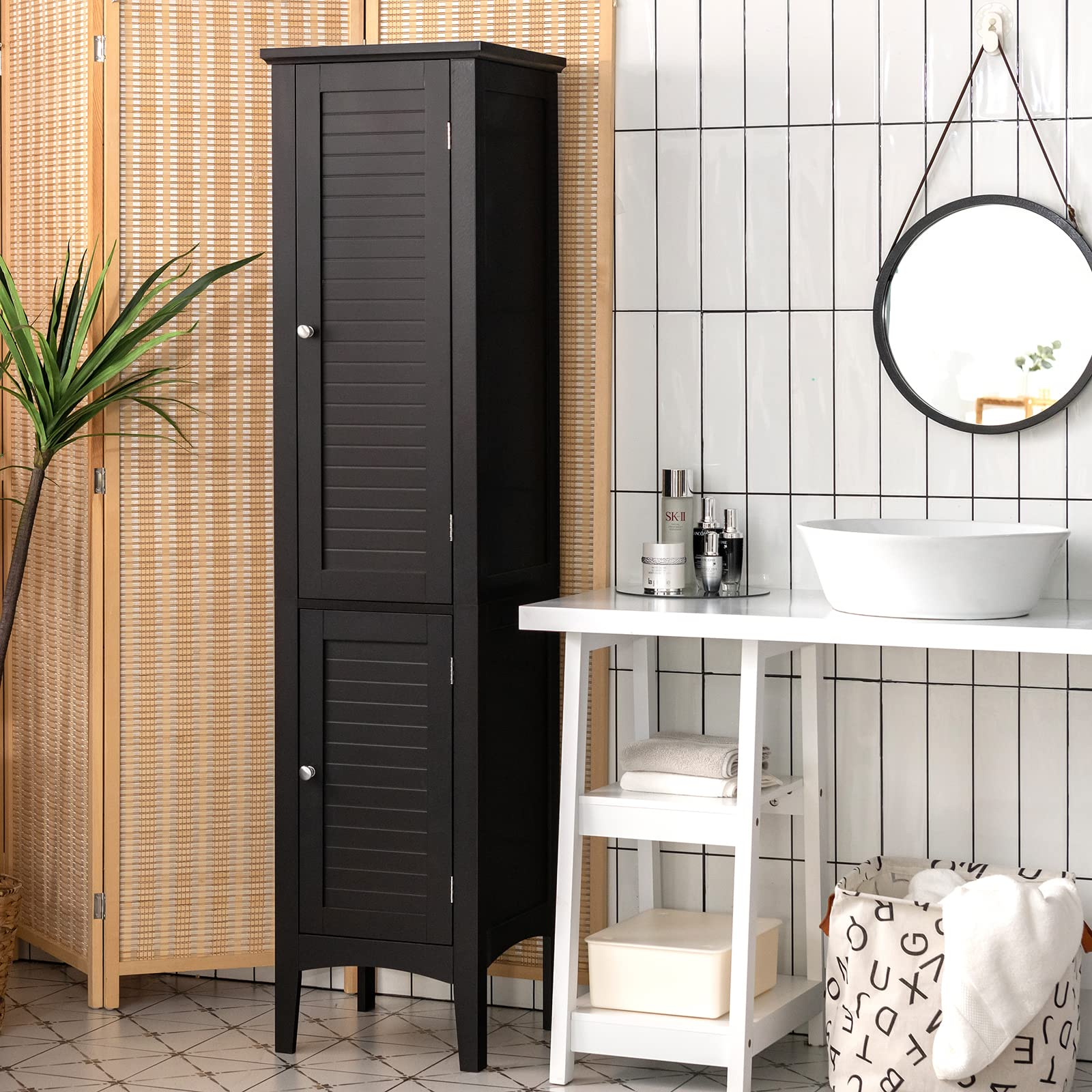 Dimensions: 14.5" X 14.5" X 63" (L x W x H)
Features:
Anti-fall design
Accommodates A Sweeping Robot
5 Shelves
Customer Review:


"This cabinet was meant to go in my mom's bathroom. But it's to tall and big. So I put it in my closet and thought it was just right. Finally all my jeans and shorts have a place of their own. love it.
4. Towel Racks
Towel racks offer efficient organization and space utilization while ensuring quick drying and improved hygiene. Their stylish designs enhance the aesthetic appeal of a space, and their durability ensures long-lasting use.
Tangkula 10-Bar Towel Warmer
We are proud to present our Luxury 10-bar Towel Warmer. This rack rapidly heats towels, clothes, and other items. It can reach your desired temperature in just 15 minutes.
With customizable settings, user-friendly controls, and safety features, it's a reliable addition to your bathroom. We craft this product with high-quality stainless steel. To save space, mount it on the wall.
It is ideal for small bathrooms and toilets. It adds a touch of luxury to your daily routine.
Dimensions: 24.5" x 4.5" x 34.5" (L x W x H)
Features:
Towel Warming
Drying
Customizable Temperature
Rapid Heating
Timer.

Customer Review:




This towel rack is good if you turn it on an hour before you bathe. It gets hot enough to dry a towel and keeps them fresher for longer. You can set the time for 1 to 2 hours up to 8 hours, and it will automatically shut off. "
Hope Tangkula storage ideas can give you inspiration. If you are interested in other articles about home furniture and appliances, click the following links to find more attractive information. Remember to subscribe to our store and get the latest news about Tangkula's big deals and new arrivals.