Only 7 days left for Halloween. There is still time for a Halloween decoration package! Tangkula provides 6% off for holiday decor automatically, including Halloween and Christmas.
If you cannot decide on the best Halloween decoration for the nightmare before Christmas, check this article for more inspiration! All the product we recommend below is the new arrivals of inflatables for Halloween party decorations. Enjoy this spooky season!
3 Overlapped Pumpkins
This Halloween outdoor decoration includes three stacked 5ft/152cm pumpkins, perfect for your yard, porch, or garden. Three pumpkin lanterns feature different expressions to create a spooky vibe.
When night falls, 180 vibrant LED lights come alive. They can turn your yard into a captivating Halloween spectacle for your kids' trick-or-treat activities.
With durable and weather-resistant material, the Halloween yard decorations are suitable for outdoor use. The setup is easy. Just insert the poles into the metal stand, attach the bottom ring, and secure it with the ground stakes. Cable ties ensure stability throughout the Halloween season.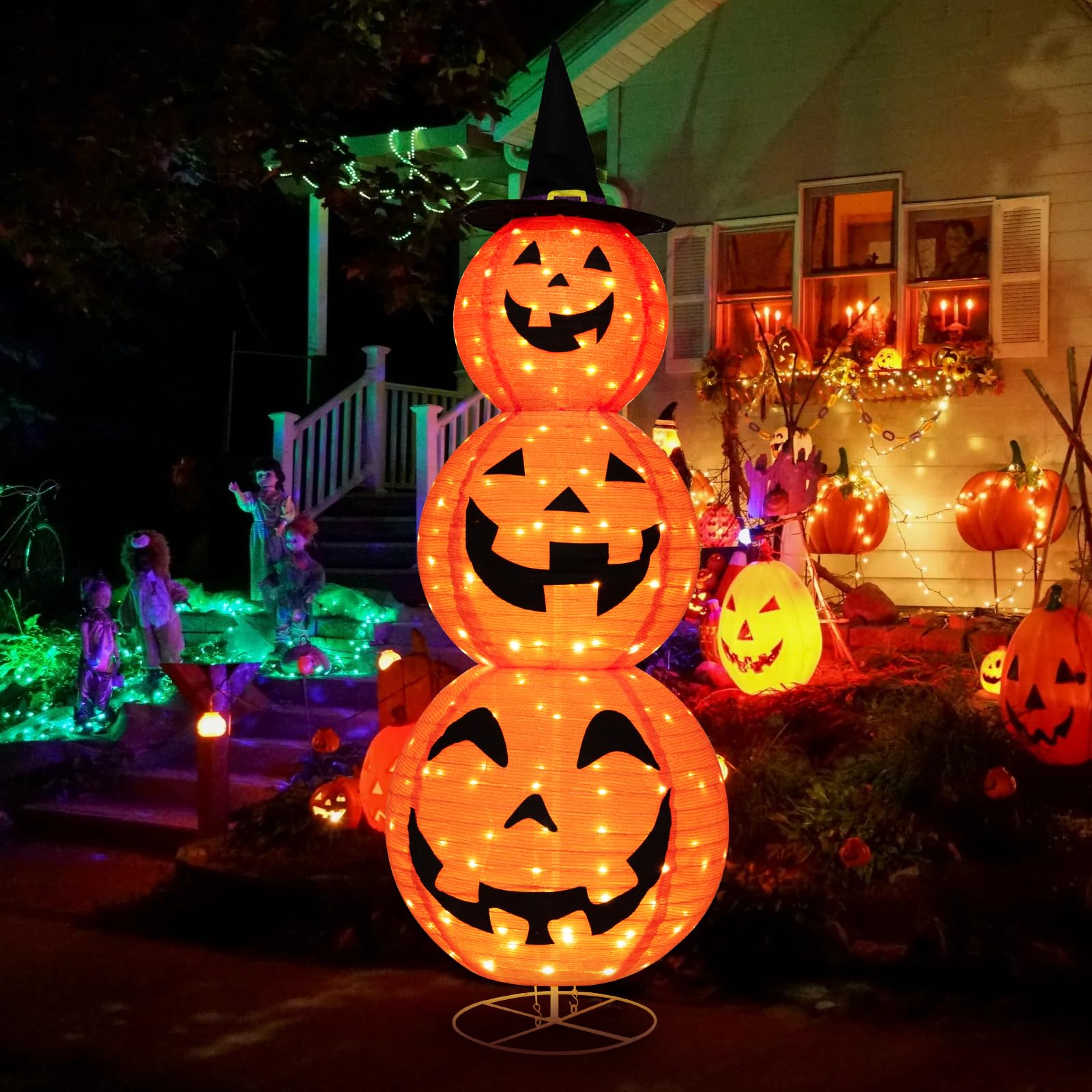 Product Size:
1.8'x1.8'x5' (L x W x H)
Customer Review:
"It inflated reasonably fast, the motor is not too noisy and it gives off a great big orange glow! Just be careful with the power cable and you'll enjoy this for many years."
Black Cat Archway
Elevate Halloween decorations for the house with a cute inflatable archway featuring five vibrant LED lights, a charming wizard cat, a pumpkin, and paws. Set a festive atmosphere for trick-or-treaters and party guests.
Setup is effortless. The package includes a powerful waterproof blower and comprehensive accessories, including water bags, ground stakes, ropes, and a storage bag. This Halloween inflatable cat archway is perfect as a Halloween door decoration. It will make you noticeable in your community and create a memorable celebration!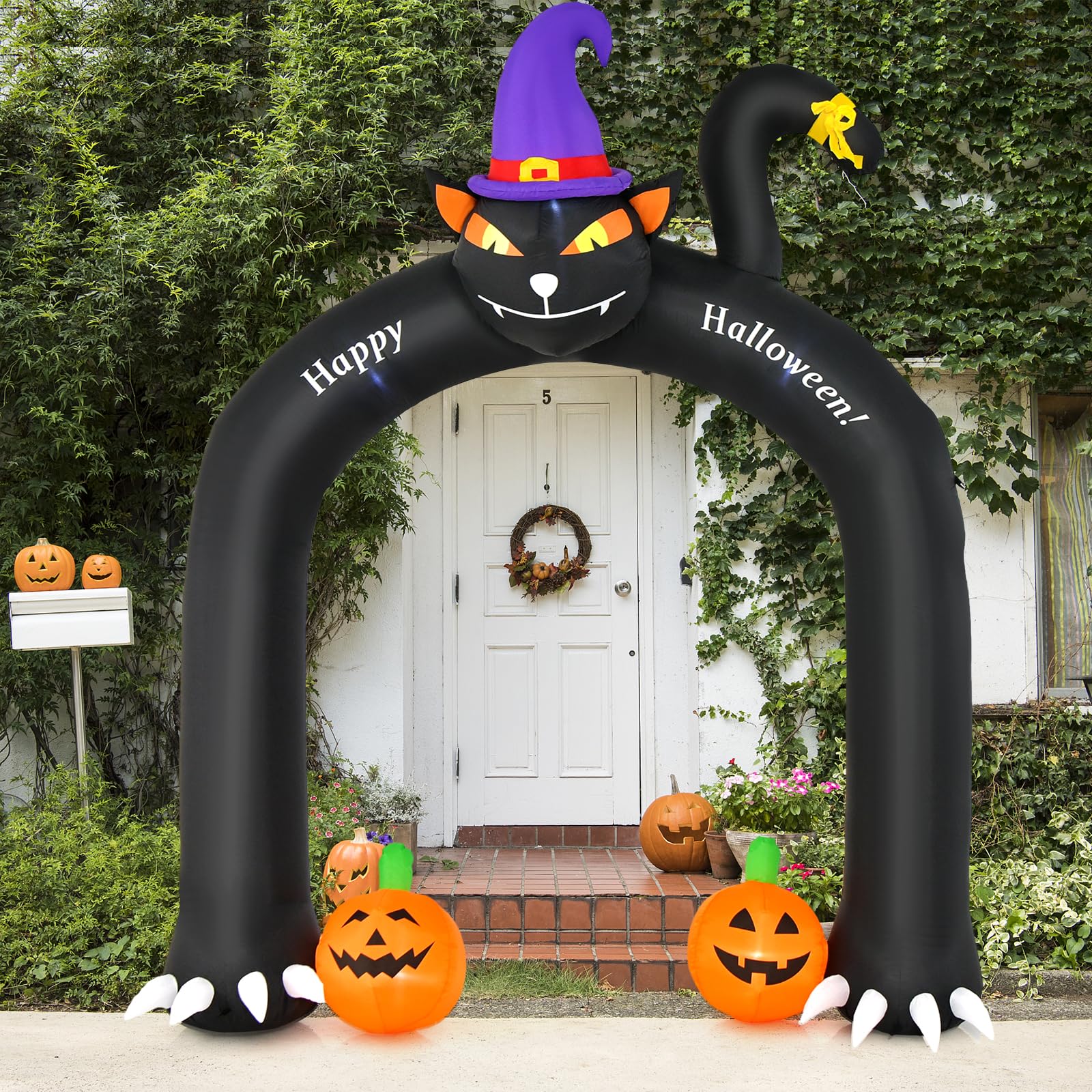 Product Size:
7'x2.3'x9'(L x W x H)
Customer Review:
"I purchased this inflatable archway for our annual Halloween party, and it was a hit! The setup was a breeze, and the quality of the material was evident."


"It has withstood the elements well, which is important in our area. I do wish it had more color options or design choices, but the cat and pumpkin are undeniably cute. Overall, a great addition to our festivities."
7 FT Skeleton Ghost on Pirate Ship
Enhance your outdoor Halloween decorations with a 7-foot inflatable pirate ship. It has realistic features, skeleton pirates, cannons, and a treasure chest. Six LED lights bring the ghost to life when night falls, creating a spine-chilling display.
Crafted from durable 210T polyester, it's waterproof and weather-resistant. Setup is effortless with a powerful blower, and it's easy to store after the holiday season. The accessory kit includes water bags, ground stakes, and ropes for added stability. Get ready for a hauntingly fun Halloween with this ghostly pirate ship!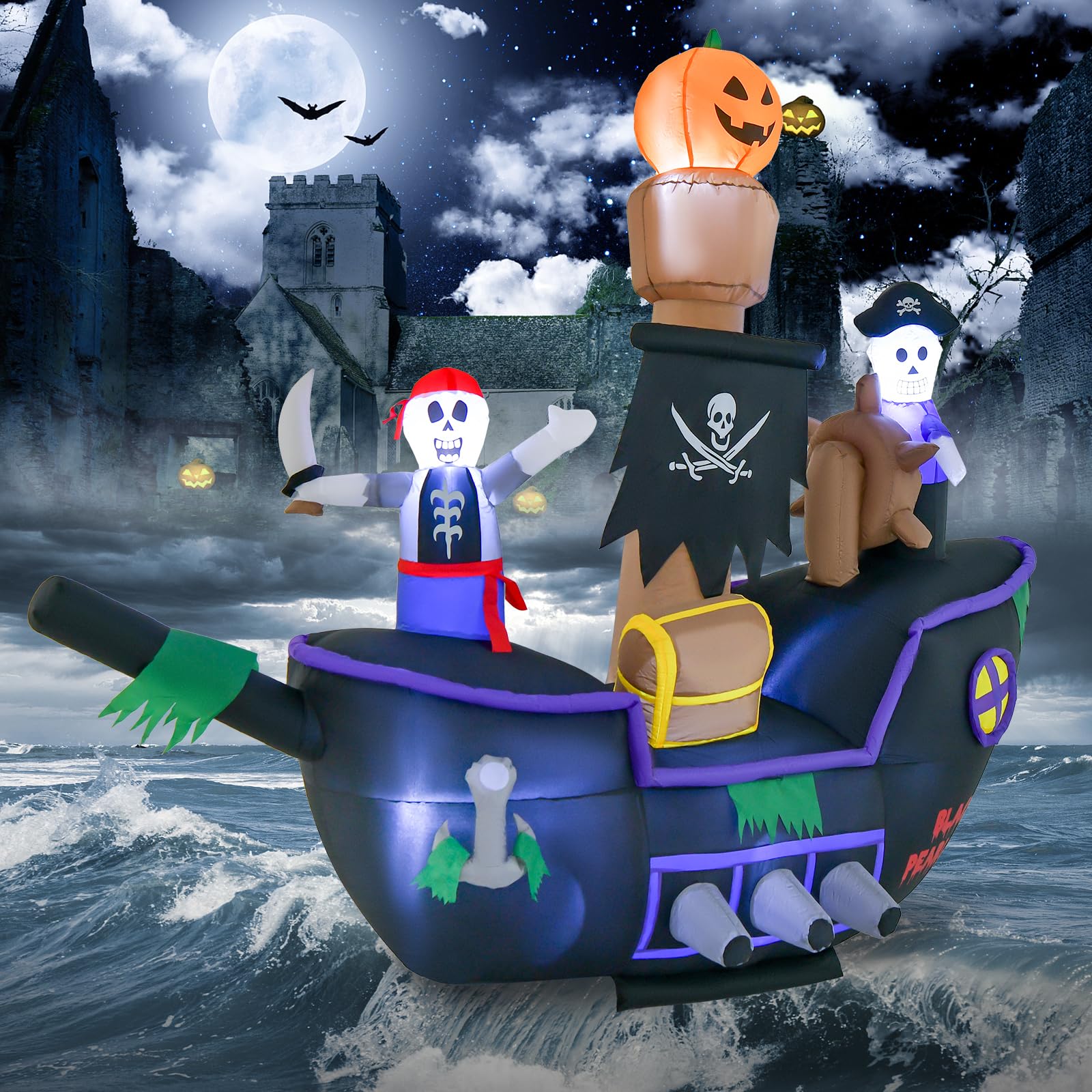 Product Size:
7'x2.3'x5.5'(L x W x H)
Customer Review:
"Super easy to inflate—no effort! Stakes and weights work well. Lots of neighbor compliments; we got two to flank our porch."
Inflatable Hanging Dragon
Elevate your Halloween décor with this lifelike hanging inflatable dragon, which comes to life with bright LED lights even after dark. Boasting a 5.2-foot wingspan, it will impress your neighbors and create a memorable Halloween experience. Easy setup and storage with strong ropes and stakes, and lightweight for hanging, thanks to a 6.2ft cord.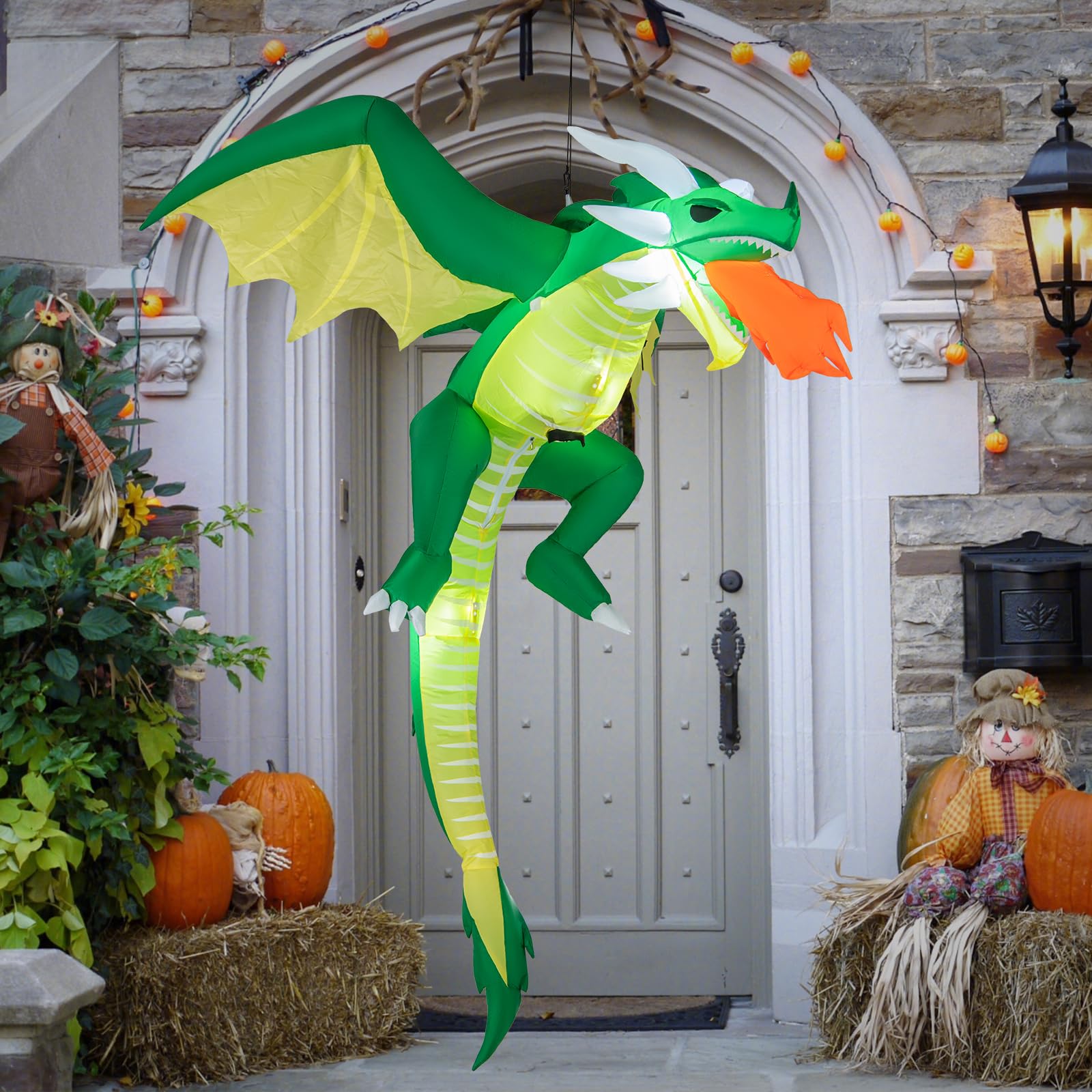 Product Size:
5.2'x3.6'x5'(L x W x H)
Customer Review:
"Adds nice interest as the evenings get shorter! We have several inflatable Halloween decorations this year. This one is our favorite. It is well-made and easy to set up. We hang it on a tree. My kids love it. it's lightweight, inflates quickly, and I've had no issues with it. The lights are bright considering the price."
Haunting Ghost Bride
Elevate your Halloween with the eerie 8-foot inflatable ghost bride. Its creepy chains, menacing claws, and spooky glowing effect, complete with evil eyes, make it the centerpiece of your decorations. Crafted from durable, weather-resistant materials, it's easy to set up and store, ensuring lasting use whether indoors or outdoors. Add a ghostly touch to your yard, porch, or garden with this chilling inflatable, complete with two weighted sandbags for stability.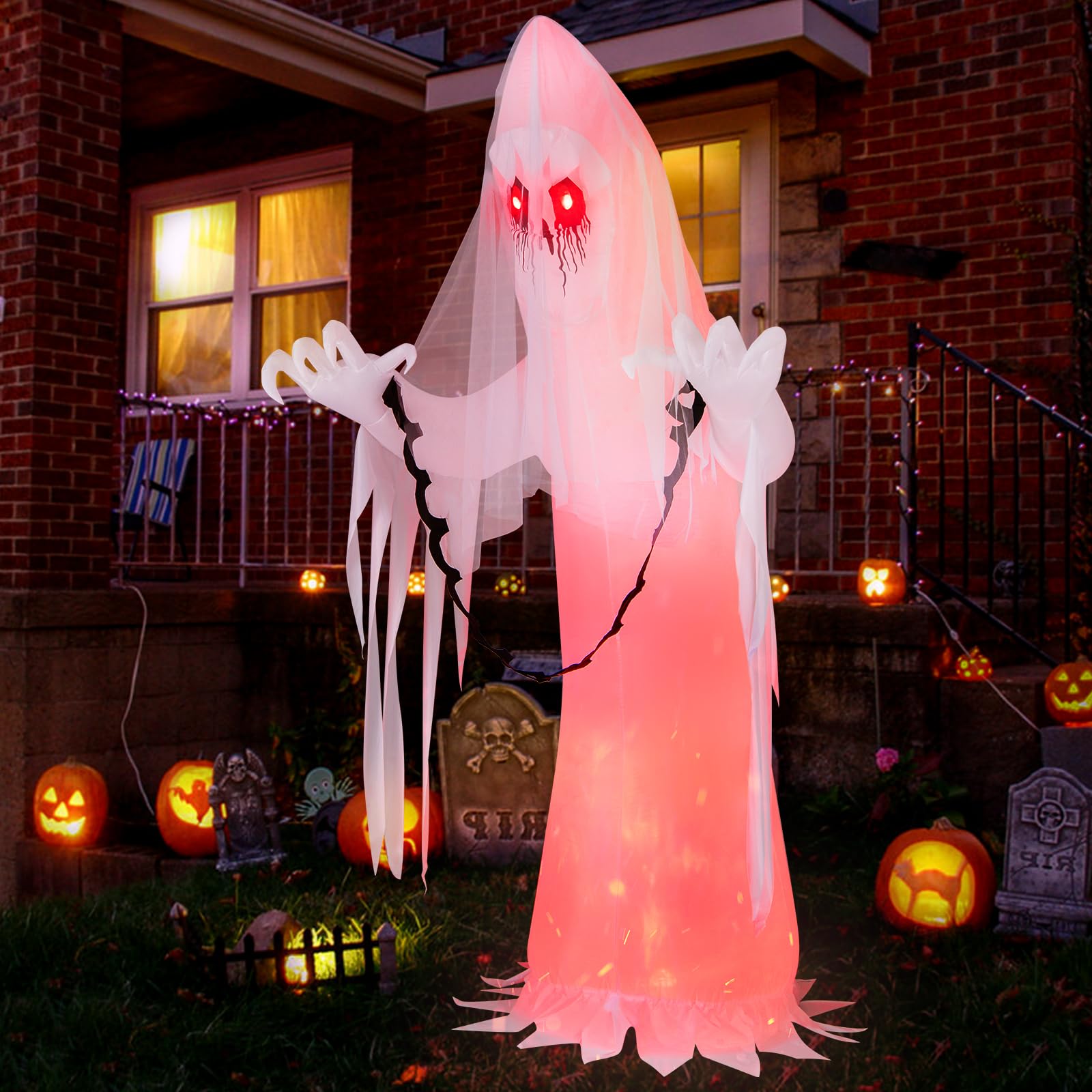 Product Size:
4.2'x3.2'x8' (L x W x H)
Customer Review:
"We bought the ghost bride inflatable for our Halloween party, and it was a hit with our guests. The details are superb, and the eerie veil, chains, and ghost claws give it a truly ghostly feel. The glowing effect is captivating, and the inflatable stands tall and imposing. It's a must-have for a spooky Halloween display!"
Grim Reaper
Terrify your Halloween with this 8ft Grim Reaper inflatable, featuring menacing, lifelike details. Its self-inflating design ensures a quick setup, and it's equally easy to deflate for storage.
Crafted from high-quality polyester, it's durable and waterproof, ideal for outdoor use, with three LED lights creating a spooky atmosphere. The accessory kit includes two ropes, four ground stakes, and two built-in sandbags for secure placement. Make your Halloween unforgettable with this impressive Grim Reaper!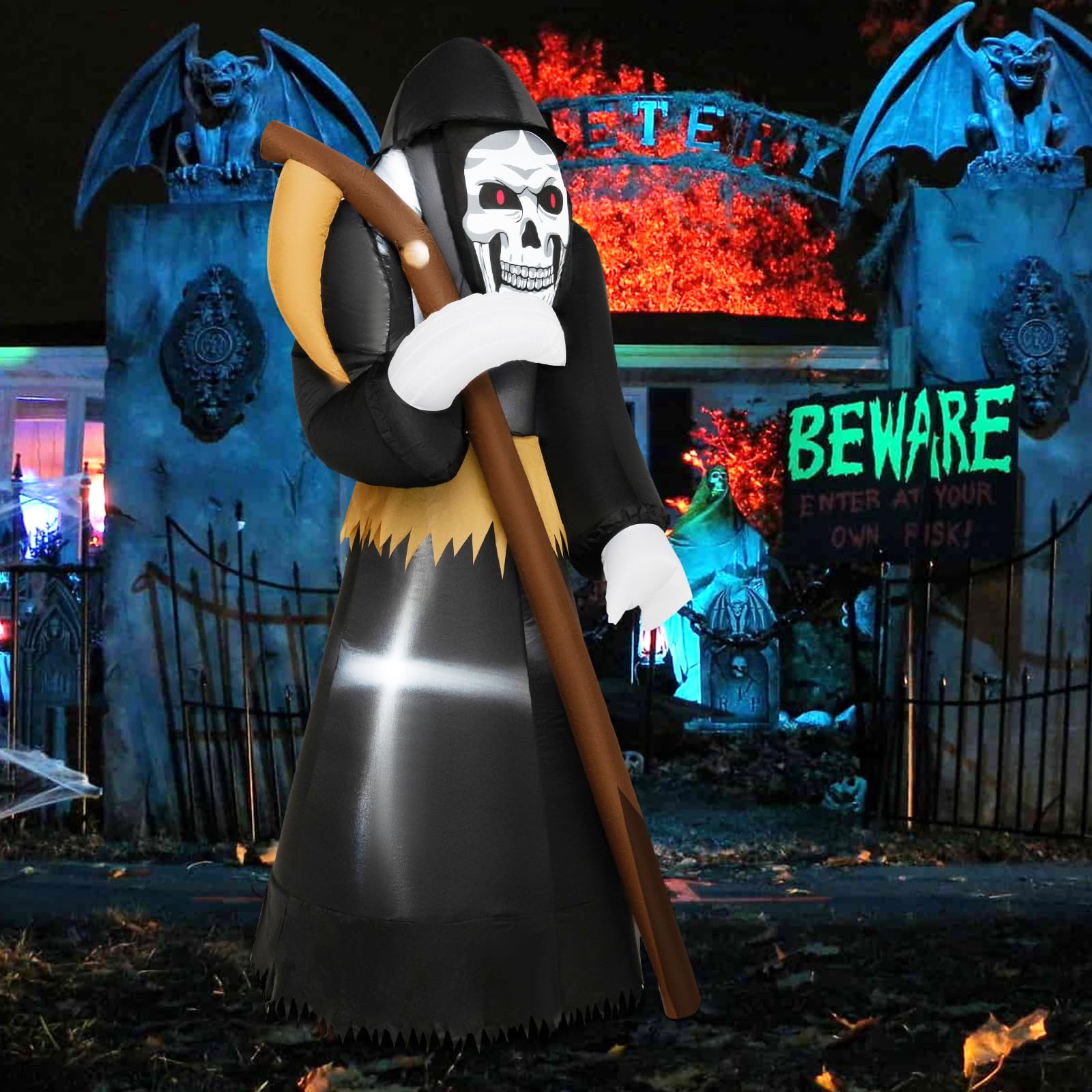 Product Size:
3.6'x3.6'x8'(L x W x H)
Customer Review:
"The Grim Reaper inflatable is a crowd-pleaser for sure. It's tall and menacing, and the lifelike details are impressive. Setting it up is a snap, and it's equally easy to deflate and store."
Skeleton Playing Piano
Captivate with a spooky skeleton playing the piano, illuminated by four LED lights, creating a captivating Halloween display. Enjoy eerie tunes via the Bluetooth speaker for an extra layer of ambiance. Easy, quick setup with a waterproof blower, and suitable for both indoor and outdoor use.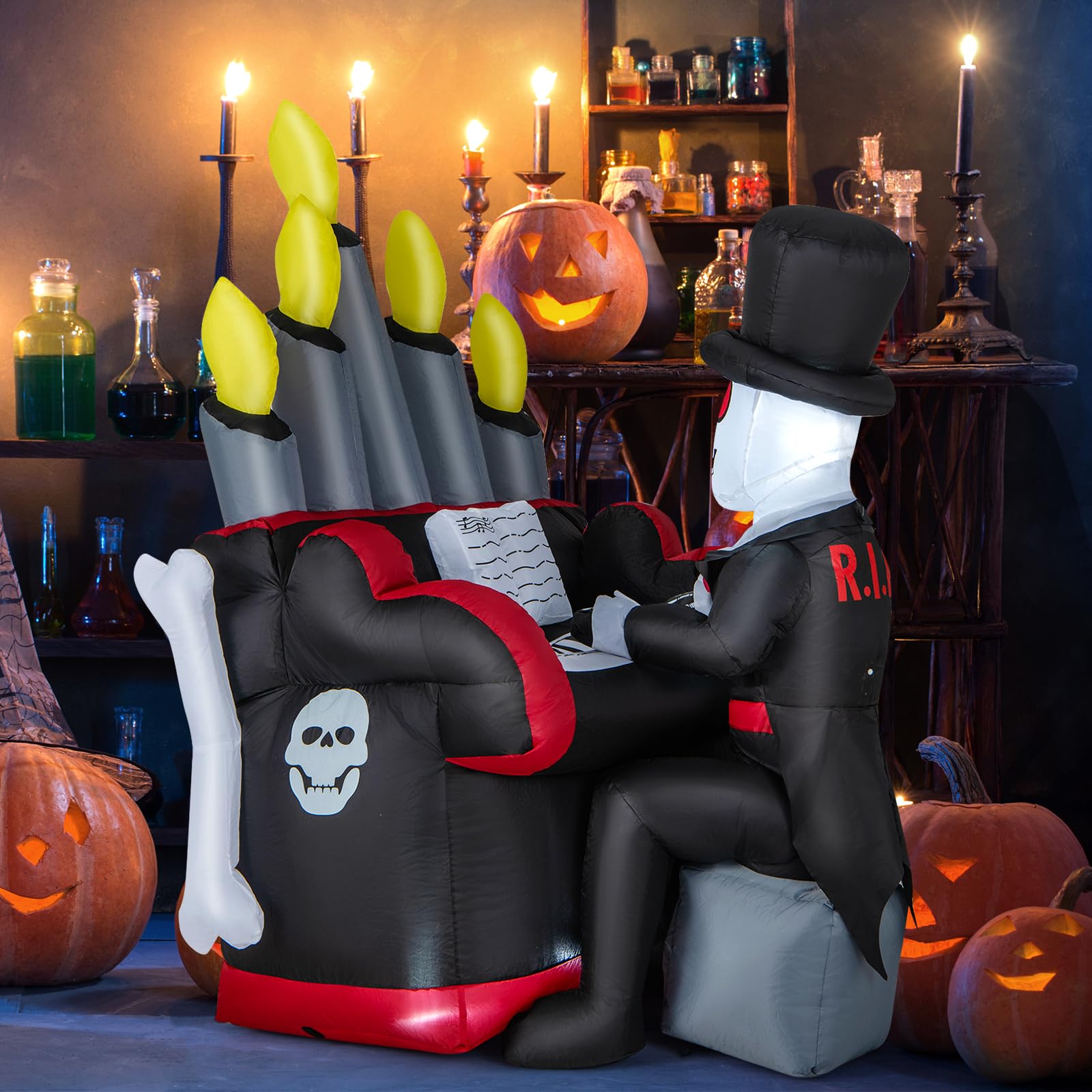 Product Size:
4'x4.2'x5.2(L x W x H)
Customer Review:
"The realistic details are impressive. The Bluetooth speaker is a fun touch for adding eerie music. Setup is quick and easy!"
Fire Dragon
Elevate your Halloween decor with an impressively realistic 8ft inflatable dragon featuring imposing wings and a menacing skull. The flame effect disco light looks like a fire-breathing dragon, and the skull's flashing light is very impressive.
Setting up is a breeze with the powerful waterproof blower and zipper, and a 6.2ft power cord offers flexibility. Crafted from high-quality polyester, it's durable and weatherproof for both indoor and outdoor use. The comprehensive accessory kit includes a built-in sandbag, two ropes, and four metal ground stakes for secure and stable placement.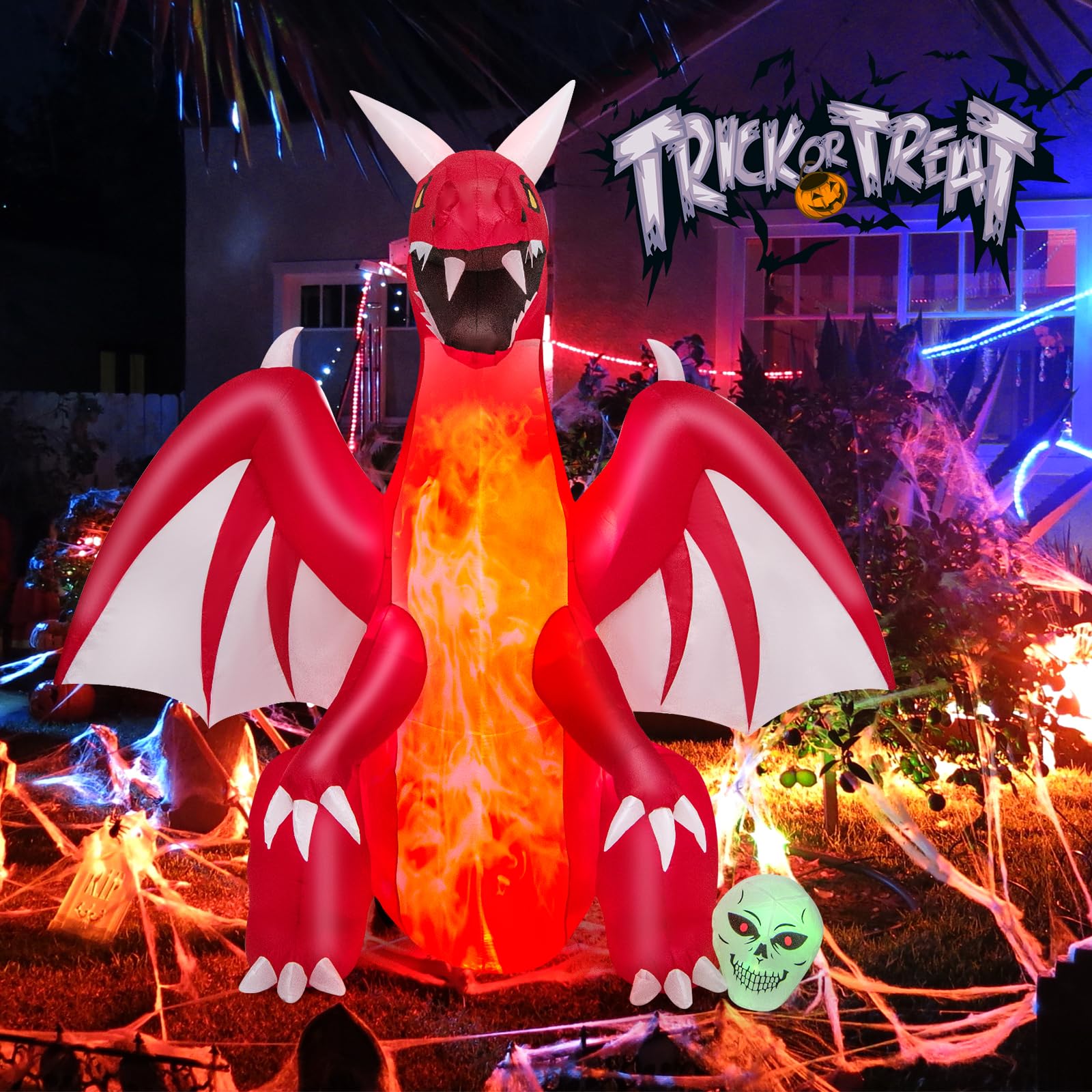 Product Size:
7'x7.2'x8'(L x W x H)
Customer Review:
The designers did a great job with the inflatable dragon balloon, as it flies and blasts flame. I have a tree in the front yard that I can hang this dragon there for Halloween!
Halloween Window Decoration
This scary ghost with a witch's hat and creepy claws represents Halloween, giving a chilling scare to loved ones. This inflatable Halloween decoration has bright LED lights that create a spooky atmosphere, making your party the talk of the town.
It's user-friendly, attaching easily with three suction cups, allowing adjustable angles via rope length modification. Quick to inflate and deflate with the powerful blower and bottom zipper. Crafted from waterproof polyester fabric, this 3.6ft tall hanging window ghost is ideal for both indoor and outdoor Halloween events.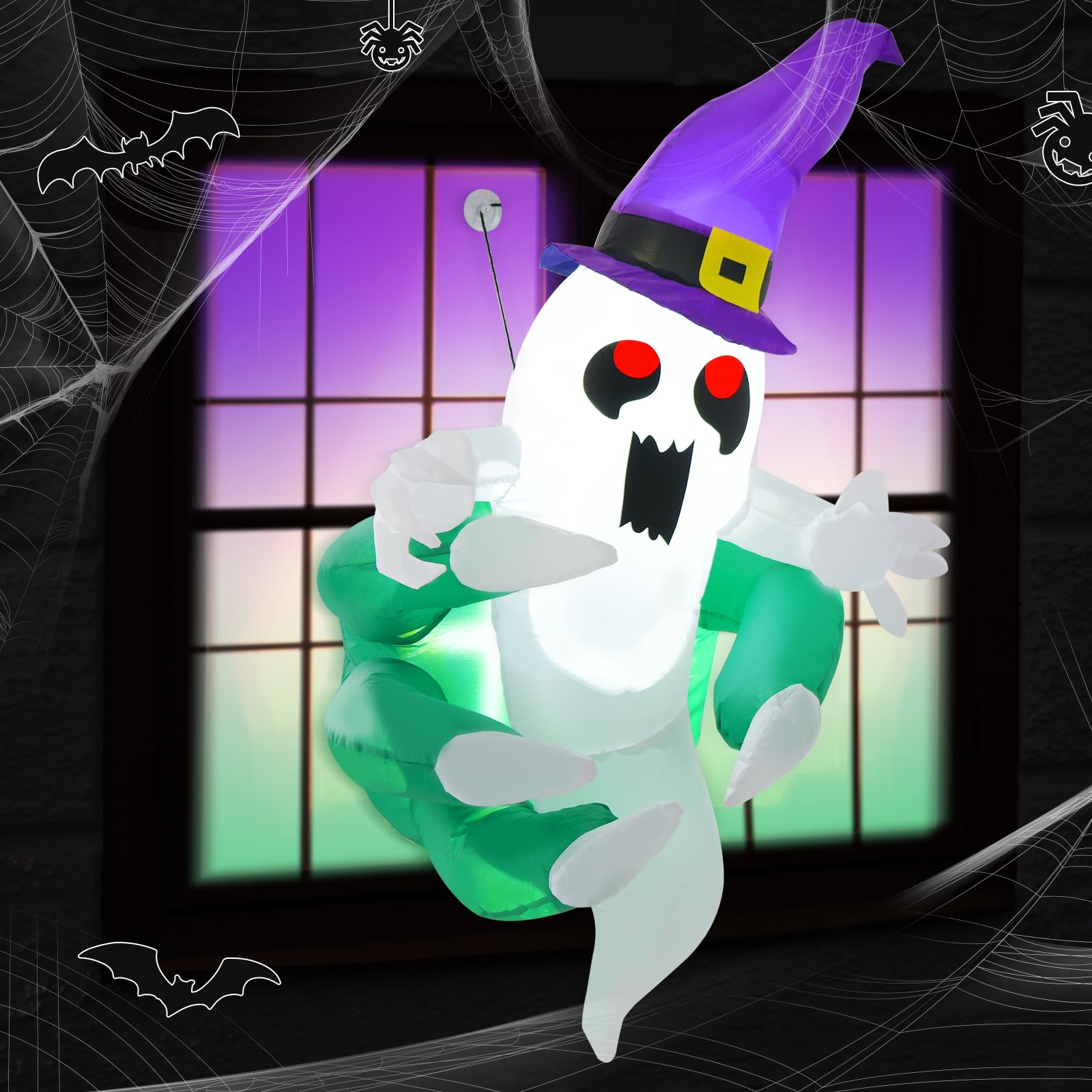 Product Size:
2.5'x3.4'x3.6'(L x W x H)
Customer Review:
"I was unsure about buying this inflatable ghost decoration, but I'm so glad I did. The design is perfect for Halloween, and the LED lights set a genuinely eerie mood at night."
Pumpkin Head Ghost
This inflatable decoration vividly embodies the Halloween spirit. When night falls, the ghost emerges from the window, creating a Halloween sensation.
Crafted with top-notch durability, it boasts high-quality, waterproof polyester fabric that resists abrasion and tears. A powerful blower enables rapid inflation within one minute.
This is a great addition to Halloween decorations. It is suitable for indoor and outdoor use. It is perfect for parties, trick-or-treating, and haunted houses.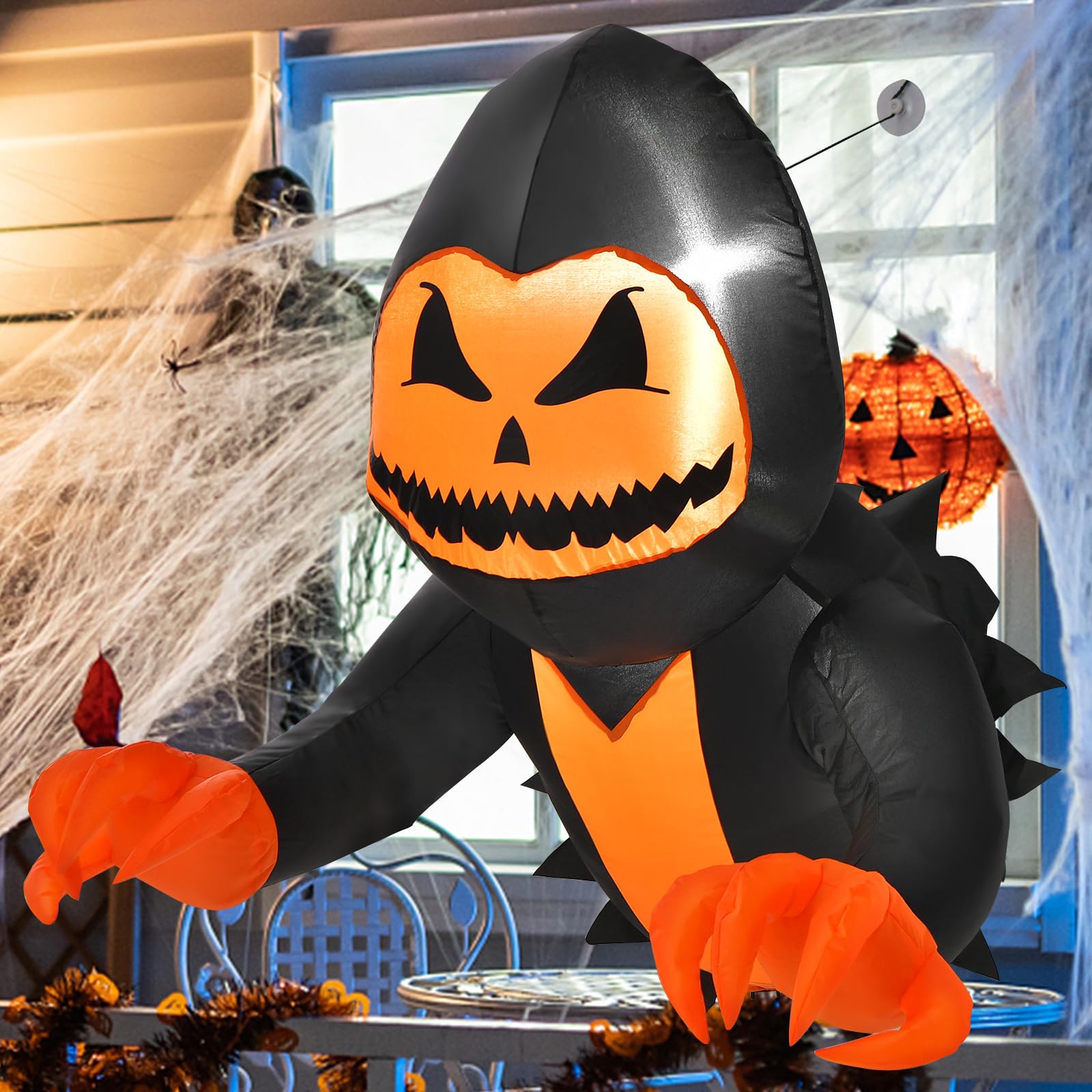 Product Size:
3.1ft x 2.5ft x 3.3ft (L x W x H)
Customer Review:
"At first, I was unsure about purchasing this blow-up Halloween ghost. However, it turned out to be a fantastic addition to my Halloween decor."
This is the last article about Tangkula Halloween decorations. If you are interested in other kinds of decors, check the blogs below. Hope you can create a memorable spooky night for your Halloween party!
Related Article: