✨ Thanksgiving Gratitude, Black Friday Savings: Let's Celebrate Together!
Happy Thanksgiving! Your support this Thanksgiving fills us with gratitude! To show our thanks, we have special offers on outdoor furniture, household appliances, and stylish holiday decorations. Get ready for your holiday home makeover that won't break the bank!
Early Deals Begin on Thanksgiving Day!
Tangkula BFCM sale started last Friday! You cannot miss these deals! You can check the home page banner to get more info!
Save

7%

off on all products. Code:

black

Enjoy the

automatic discount

on the following three collections:
TV Stands with Electricity Fireplaces; Cat Trees; Fire Pit Patio Sets.
Save up to

40% off

on specific products! 
Thanksgiving Sale is a good chance to prepare for the upcoming gift season! Prepare the gift in advance will relieve your burden in the following busy month! We make a list of must-haves in the biggest carnival of 2023! Wish you can get some inspirations!
Preparasion for the Christmas
Gift for Family
Gift for Furry Friends
Here are the Christmas Decorating Ideas from Tangkula!
Features:
Versatility:
Suitable for indoor and outdoor use, the decoration enhances the holiday atmosphere in various scenarios.
Easy to deflate and carry:
The zippered design makes the blow-up Christmas decoration easy to pack and transport for storage.
Festive Atmosphere: 
The Christmas house decorations add a warm and festive touch to any space with a joyful holiday ambiance.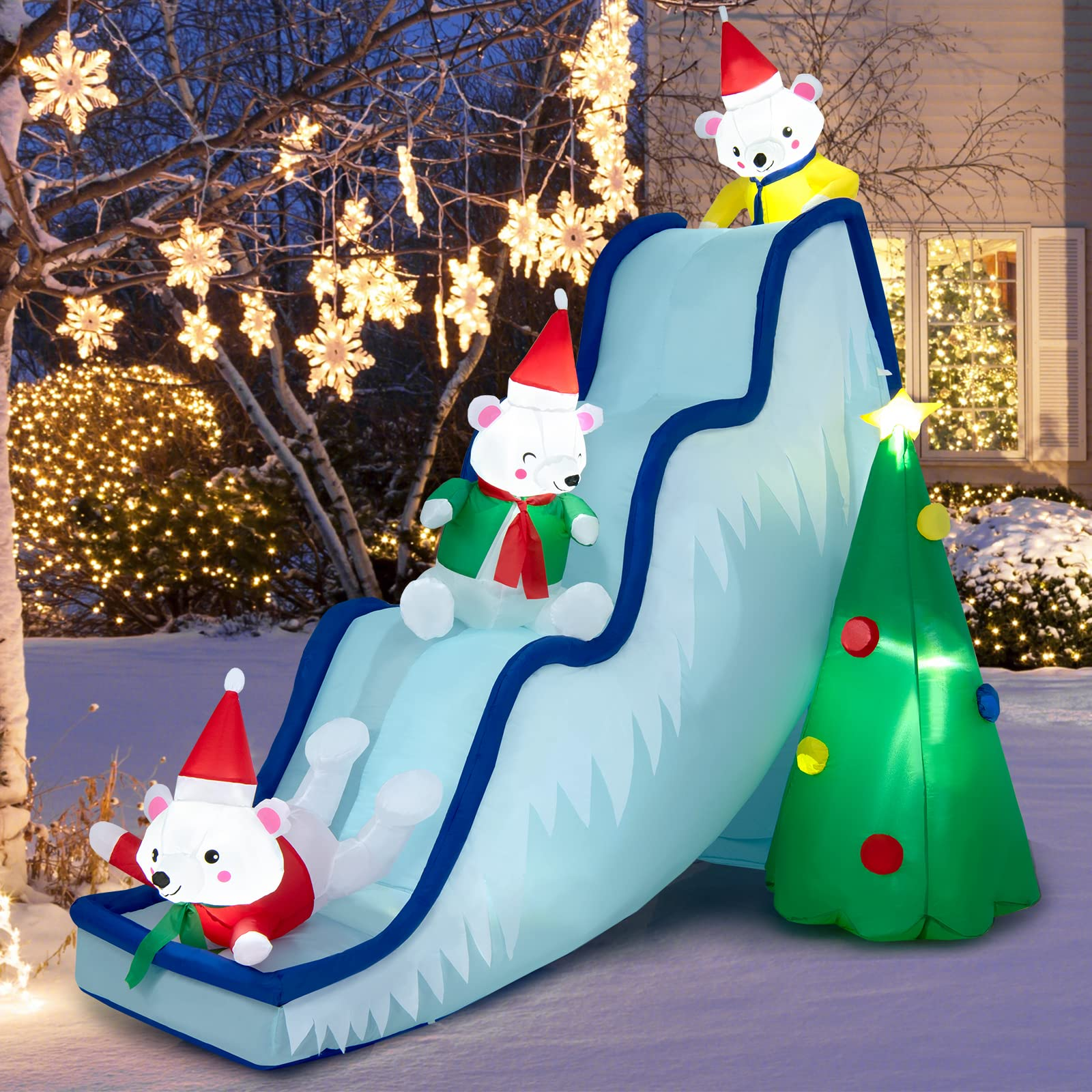 Details:
Size: 9ft x 4.7ft x 7.2ft (L x W x H)
Customer Review:
"I purchased the polar bear slide in 2019 from somewhere else. I just inflated it for the 3rd winter. It still looks great on our dock with the bears sliding into the water."
"I did need to purchase new bulbs as our slide had incandescent bulbs. I replaced the bulbs with LED. It certainly brings a smile to people driving by."
Features:
Captivating & Delicate Appearance: 
The reindeer Christmas decoration has a bright, friendly pose that adds charm to your yard. It also has red bows with bells for a festive feel.
Sparkling & Lighted Design: 
The glitter adorns the reindeer, creating a sparkling effect in the light. With 215 light beads, it provides a bright visual display day and night, capturing the attention of neighbors and guests.
Easy Setup:
The instructions are clear and include all parts. This makes the Christmas porch decoration easy to assemble. You can create a beautiful holiday display.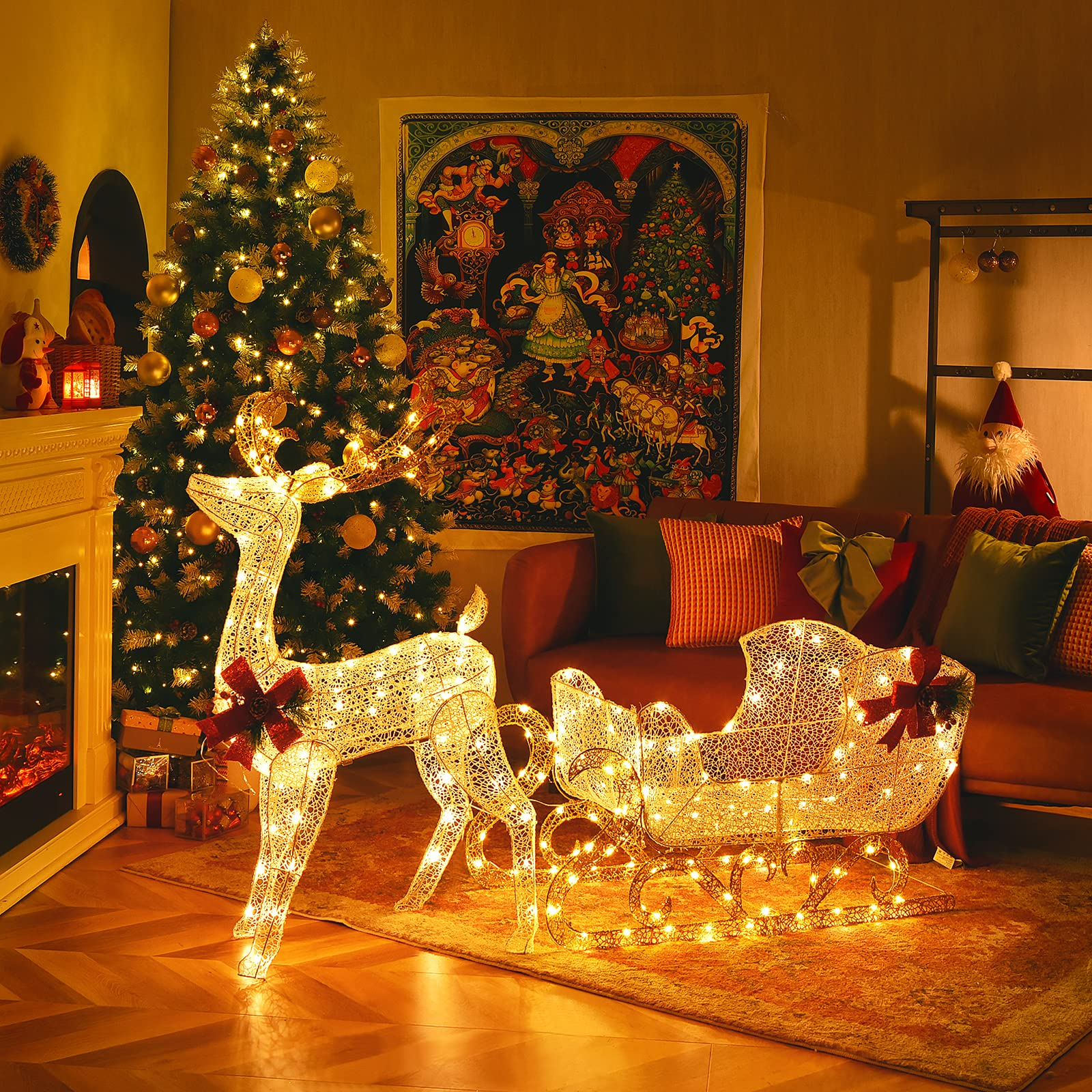 Details :
Material: Steel + Tinsel
Overall Dimension: 19.5" x 72.5" x 48.5" (L x W x H)
Dimension of Reindeer: 12.5" x 29" x 48.5"
Dimension of Sleigh: 19.5 x 43.5" x 24" (L x W x H)
Net Weight: 11 lbs
Cord Length: 16.4 ft
Bulb Number: 215
Rated Voltage: 120V 60Hz
Wattage: 7 W
Customer Review:
"I had to get new decorations and this fit perfectly with the Santa, packages, and lights on my porch. It has a lot of glitter, which I love. I am very happy with the set."
Features:
Enchanting LED Lights: 
The outdoor lighted Christmas decoration has 200 LED lights, including twinkling lights, and covers 16.4 ft of the power cord. The dynamic light effect makes the surrounding space a focal point.
Vivid & Classic Appearance: 
The Christmas snowman features a classic design with a black bowler hat, red scarf, gloves, and a smiling face. It creates a joyful atmosphere for family and friends during the Christmas party.
High Quality & Stability: 
The strong metal frame, four nails, and ten cable ties make it stable and less likely to wobble or fall apart.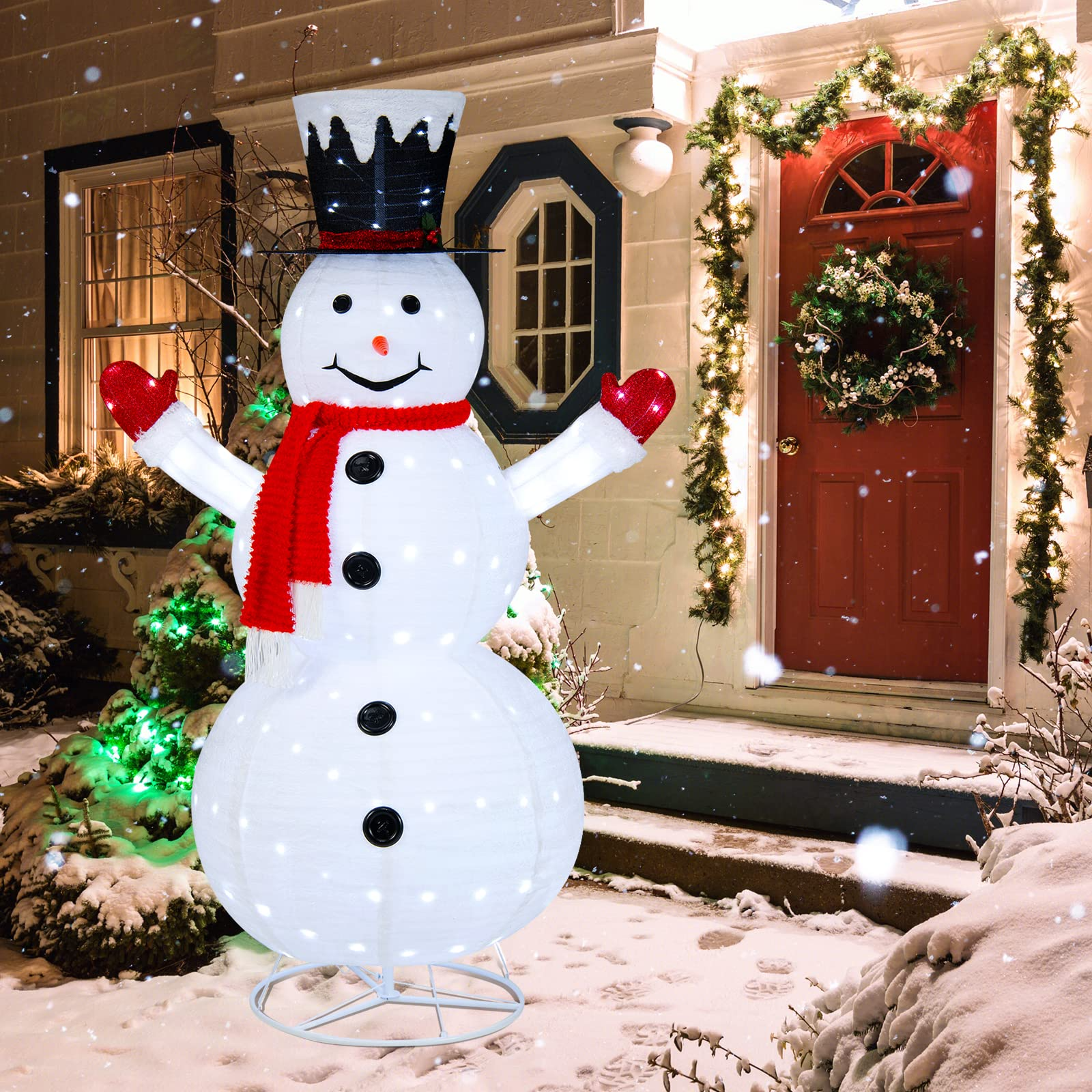 Details:
Size: 4.1ft (dia) x 6ft (H)
Customer Review:
"Super beautiful, I love it, and my son loves it too. We installed it together!"
"When we turned on the light, my son got super excited. I think it's great value, the quality is excellent. I'm planning to buy another one as a gift for a friend!"
Features:
Creative Light Show: 
The outdoor Christmas tree decoration boasts 34 lighting modes, creating stunning effects for an impressive nighttime display. With 341 glowing lights, it adds a Christmas atmosphere to your living room, making it an attractive holiday decoration.
Unique Spiral Christmas Tree: 
This 7-foot tall Christmas tree resembles a spiral and already lights up like a Christmas tree. It adds a lively and lovely atmosphere to the holiday season, providing a festive welcome for family and friends.
Adorable Holiday Decoration: 
The LED Christmas tree is great for Christmas and you can place it anywhere, such as home, porch, fireplace, office, or store. It brings cheers and happiness to the holiday season, serving as an adorable decoration.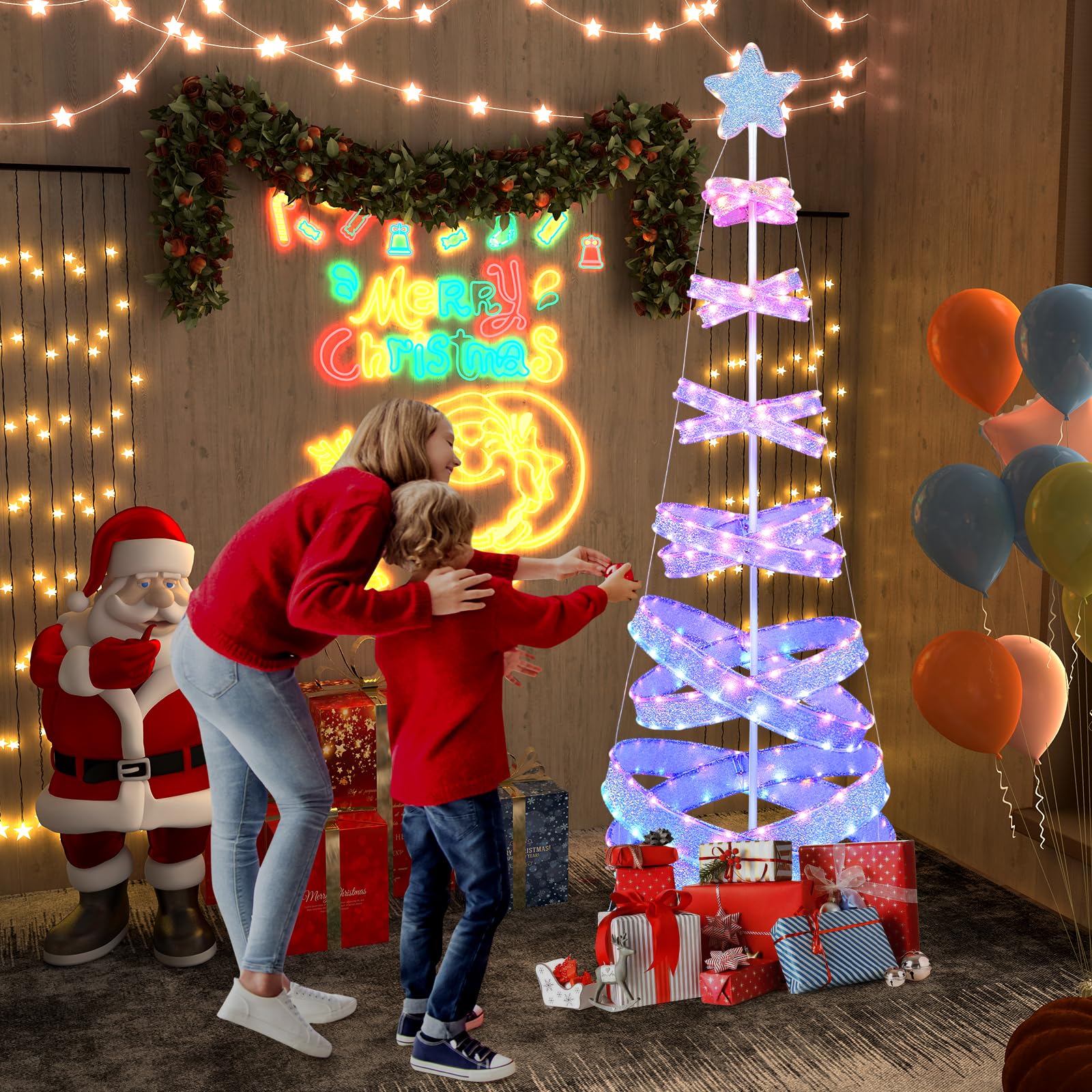 Details :
Color: White
Material: Metal, Polyester
Product Size: 2.3ft x 2.3ft x 7ft (L x W x H)
Net Weight: 14 lbs
Features :
Attractive Christmas Decoration: 
During the holidays, Santa Claus and his reindeer bring joy and surprises to your family in a hot air balloon. It creates a memorable festive scene.
Shining Built-in LED Lights:
Featuring super bright LED lights, the Christmas lights decoration provides excellent visibility at nighttime, attracting attention, especially from children. Its dazzling presence for various occasions includes backyard gatherings, lawns, and Christmas parties.
High-Quality Material for Longevity:
They make the inflatable Christmas Santa Claus out of strong polyester fabric. This fabric is waterproof and resistant to damage. Therefore, the inflatable Santa Claus will last all holiday season. Reinforced stitching increases tear resistance, contributing to its longevity.
Quick Inflation & Deflation: 
You can inflate the decoration in just a few minutes by plugging it in with a powerful air blower. The zippered design prevents air leakage and facilitates fast deflation for convenient use.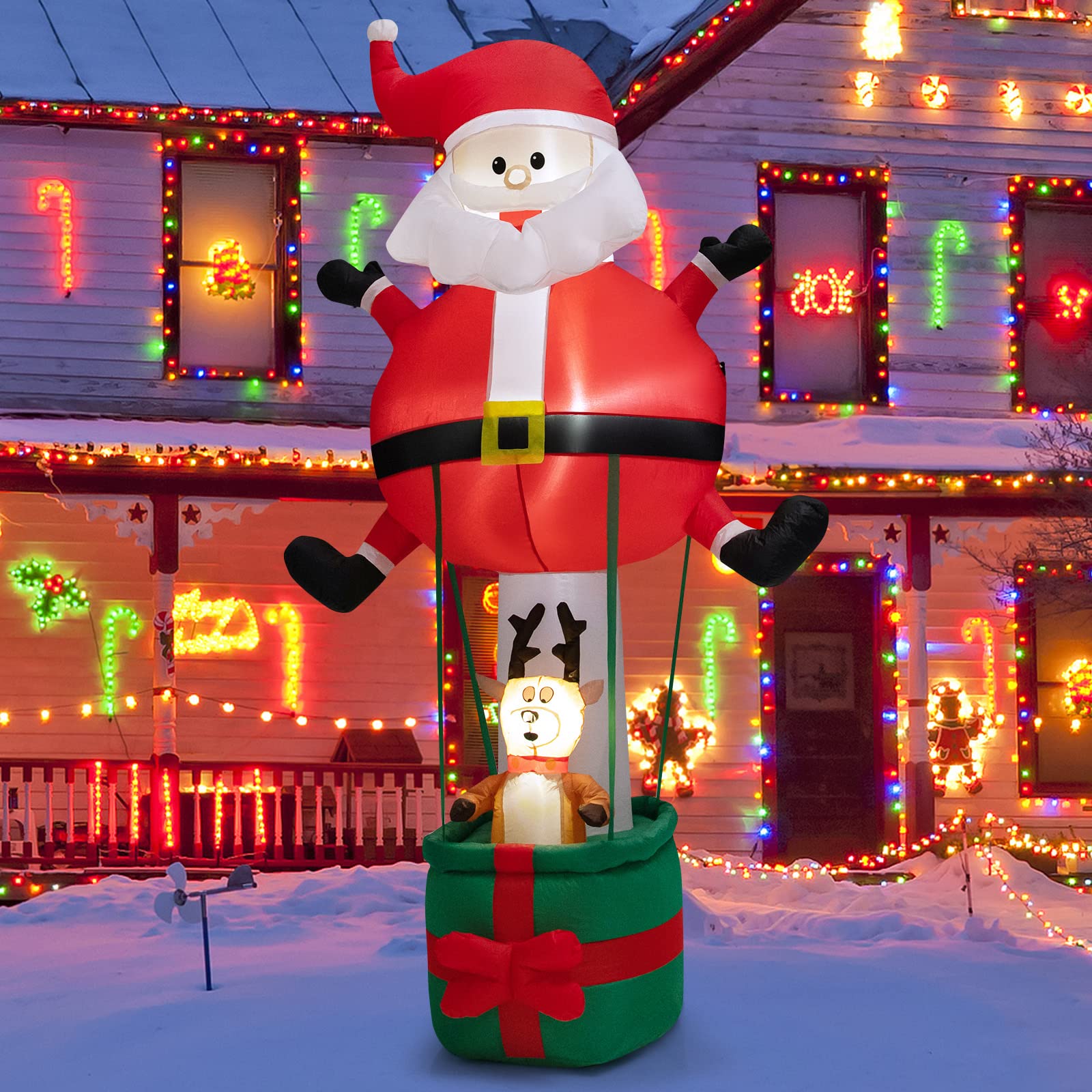 Details :
Customer Review:
"It's easy to use and super cute Santa for Christmas. My son loves it so much and he can not wait for Christmas to come. It's stable with sticks that can push into the ground it won't fall when windy days. It also has lights that can make it more adorable."
Here are all the decorations we recommend for Christmas! Thanksgiving is a great time to buy beautiful Christmas decorations at a low price and with good quality. We will continue to introduce Thanksgiving gift ideas in Tangkula in the year 2023! To stay updated with the latest news from Tangkula, please remember to subscribe to the e-mail.
Upcoming article:
5 Gifts for Family | Thanksgiving & BFCM Sale - Tangkula
Related Article: