Black Friday and Cyber Monday sale is approaching! Tangkula BFCM Sale will begin on 11.16!
Have you decided what to buy your family? This week, we will list the top 10 items of best-selling collections. Features are as below, assisting you in selecting the most suitable products. 
Today's recommendation is the cat tree for indoor cats . To learn more about cat tree-buying tips, click the following links. We have introduced many aspects of cat tree selection.
Details about the cat tree sale are at the end of the passage. If you're planning to send a new cat toy for your feline friends, you cannot miss the BFCM sale on cheap cat trees!
Features:
Lively Entertainment: 
The cat tree is a fun place for kittens to climb and jump, keeping them active and entertained.
High-Grade Aesthetics: 
The wood grain covering gives the cat tree a sense of high grade and fashion, making it a stylish addition to your home decor.
Natural Color Matching: 
The natural color of the wood cat tree makes it versatile, complementing various house decors.
Skill Development: 
The cat tree helps cats climb and jump, keeping them active and healthy.
Wear-Resistant Sisal Rope: 
The pillars have strong ropes for cats to scratch and climb on.
Comfortable Cushions: 
Fluffy and warm cushions on each platform create a comfortable environment for cats to relax and nap.
Privacy and Safety: 
The spacious design includes two cat holes, ensuring privacy for pets. They will enjoy a safe sleeping environment.
Easy to Clean: 
The cushions, fixed with Velcro, are easy to clean, maintaining a hygienic environment for the kitties.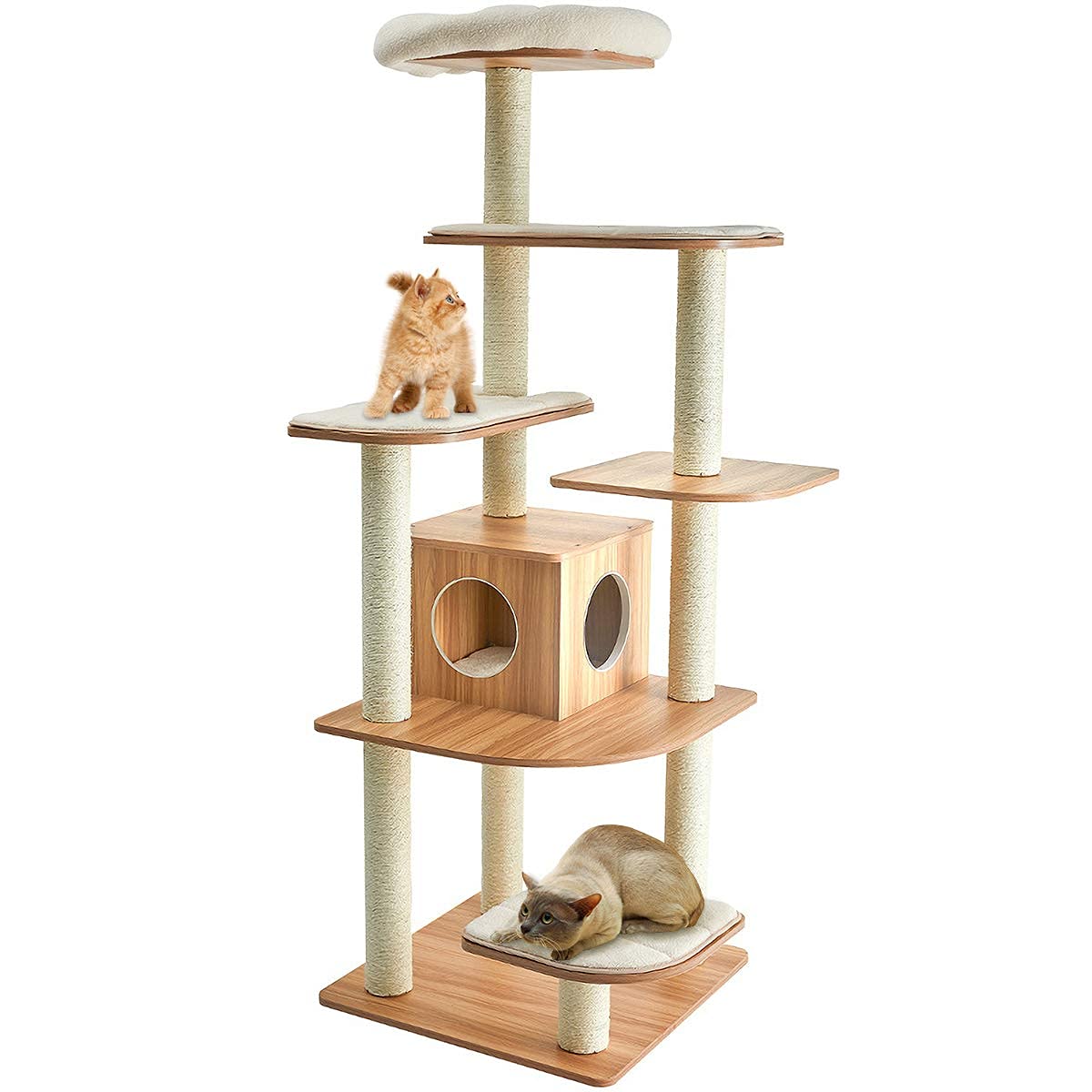 Details:
Material: Particleboard + PVC
Product Dimension: 69" x 34" x 34" (L x W x H)
Product Weight: 56.5 LBS
Number of Platforms: 6
Cat Room Size: 12" x 12" x 15"
Cat Hole Diameter: 7"
Customer Review:
"This cat tree is clean and modern. It's not only beautiful; it is sturdy, easy to clean, and great for all cats. My cats range in sizes from small to huge and they all have no problems using it. The soft pads can be removed for cleaning, the platforms can be customizable (to an extent), and the hub gives it a cozy touch."
Features:
Versatile Activity Spaces: 
The cat tower for large cats has 4 layers. Each layer has different places for cats to do various activities. These activities include resting, napping, jumping, sunbathing, and looking out the window.
Plush Perch: 
A 68.5-inch-high plush perch allows cats to overlook their surroundings. They will love this elevated spot!
Interactive Features: 
Sisal scratching posts and jingling fur balls provide interactive elements for cats, promoting physical activity and entertainment.
Warm Condo and Plush Cushions: 
The wood cat condo and plush cushions offer comfortable and cozy spaces for cats to rest and nap.
Sturdy Construction: 
The massive columns and solid base make the cat tower incredibly sturdy, so cats can jump on and off safely.
Scratch-Resistant Sisal Posts: 
Natural sisal scratching posts allow kittens to sharpen their nails, addressing their instincts while protecting furniture from scratches.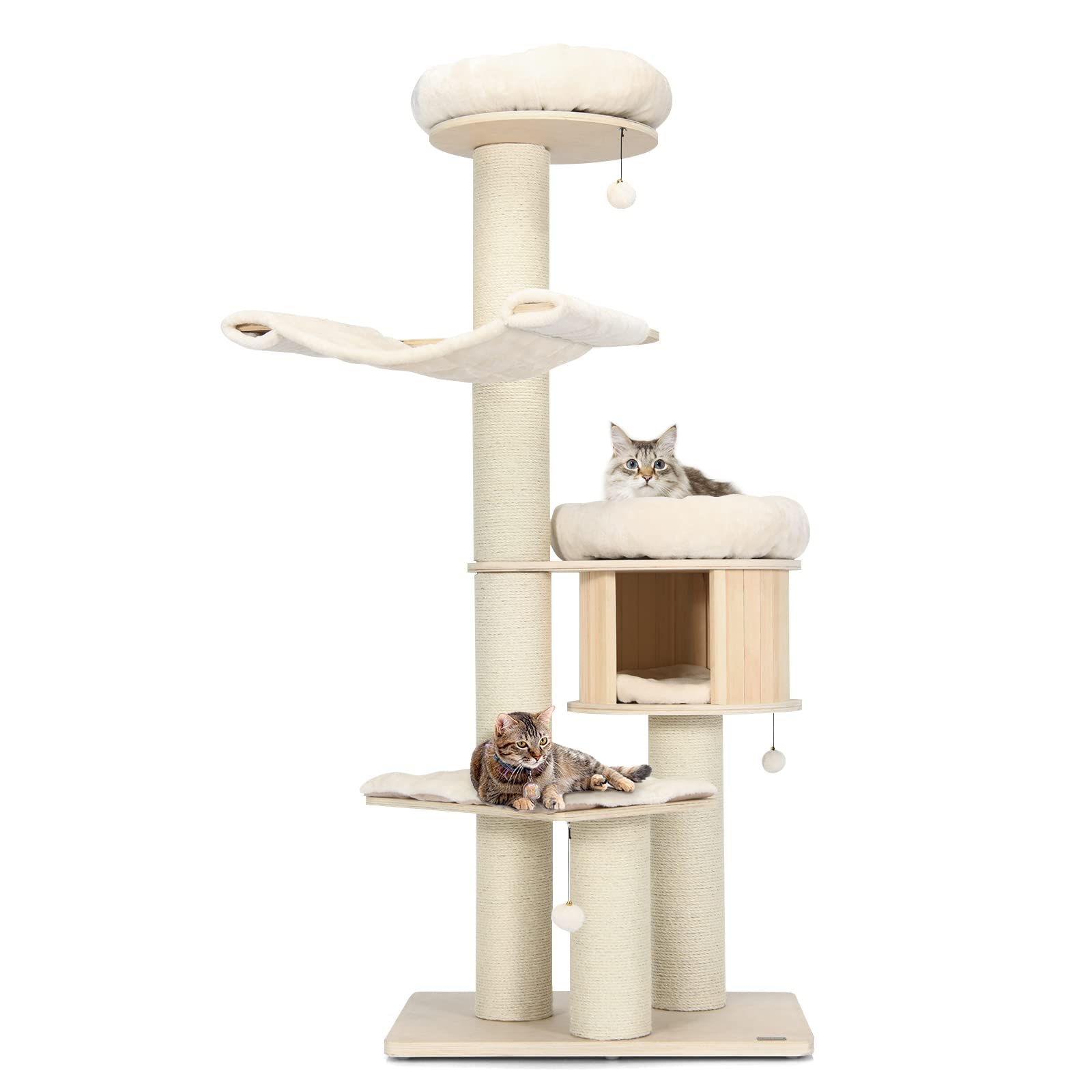 Details:
Materials: Pine Wood, Birch Wood, Sisal, Plush
Overall Dimensions: 29.5inch x 22inch x 68.5inch(L x W x H)
Cat Condo Size: 15inch x 9.4inch(Dia. x H)
Top Perch Size: 19inch x 4inch(Dia. x H)
Net Weight: 57.5 lbs
Weight Capacity: 33 lbs/ Each Layer
Customer Reviews:
"I was looking for a sturdy, tall cat tree - one tall enough that if Piper (during one of her Hyper Piper moments) wanted to climb up and jump onto the top of the bookcase, she could. This is perfect! It's tall enough, with enough cat "shelves" on it that she can jump from shelf to shelf and then up onto the bookcase. The tree holds her enthusiastic jumps well and she is happy again. She also loves to just lounge on it as well. My other cat Pippin, is not the climber that Piper is, but he also loves to lounge on it, particularly the hanging basket, which I did not expect him to like, so that's a bonus."
Features:
Sisal-Wrapped Posts: 
Sisal-wrapped posts offer a designated and satisfying surface for cats to scratch, preventing damage to furniture.
Entertainment Features: 
Dangling fuzz balls provide entertainment for cats, encouraging play and physical activity.
Removable Plush Cover: 
You can take off the soft cover, making it easy to clean. This keeps the cats' area clean and germ-free. Also convenient with hook and loop fasteners.
Reinforced Base: 
The strong base makes the cat tree stable, so it won't shake when energetic cats play on it.
Weight Capacity: 
The cat tree can hold up to 33 lbs per level, indicating a robust and sturdy design.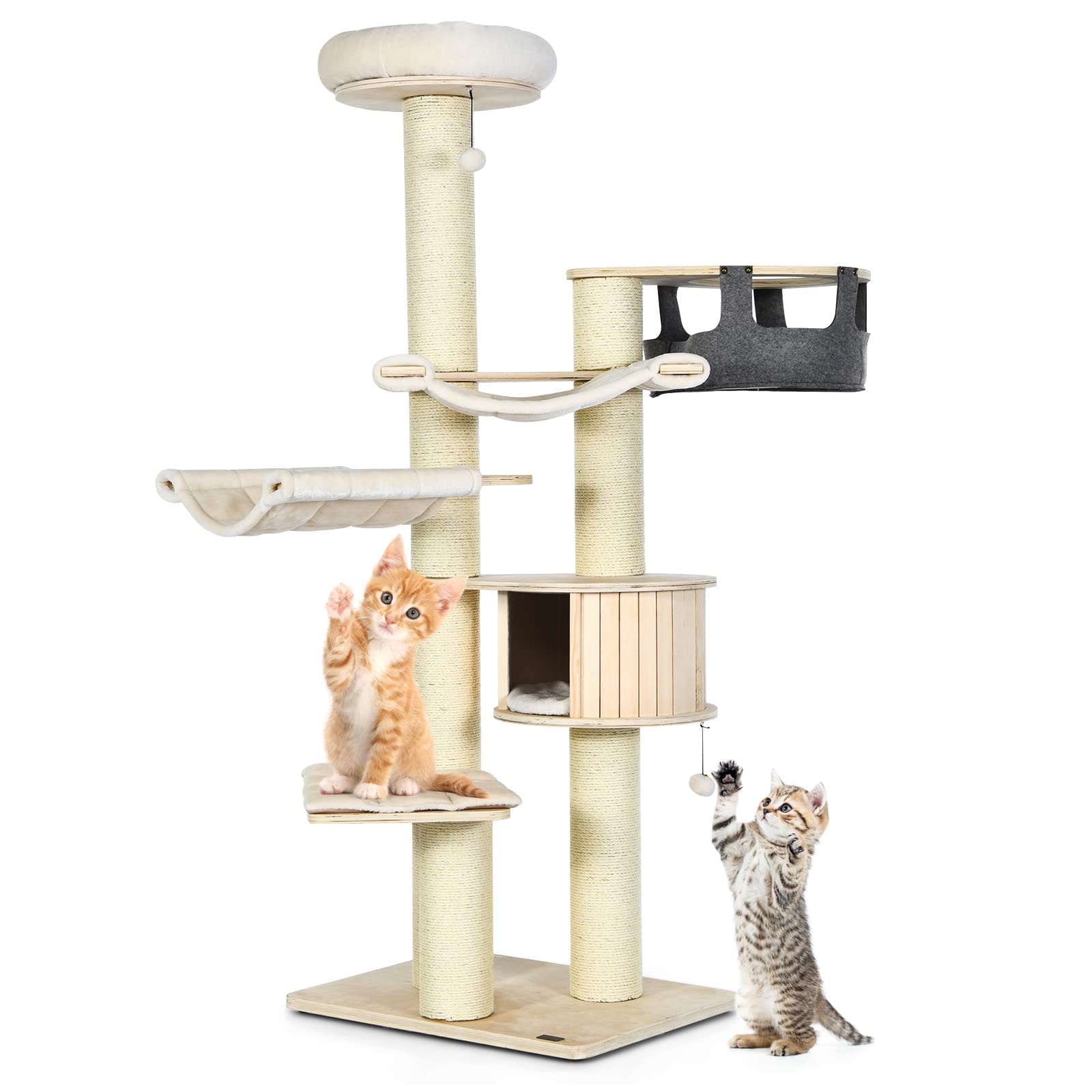 Details:
Materials: Plush, pine wood, sisal, MDF
Product dimensions: 29.5" x 22" x 77.5" ( L x W x H )
Net weight: 77lbs
Maximum weight of each tier: 33 lbs
Customer Reviews:
"Very sturdy. Good solid hardware. Cats fell in love with it instantly. I swapped the two top baskets this reduces the height by a few inches, but makes it easier for the cats to move around. Easy to assemble. Fairly awkward to move, so assemble it where you want it."
Features:
Wide Top Perch: 
A wide top perch offers a comfortable spot for cats to observe their surroundings.
Multiple Cat Scratch Posts: 
Multiple cat scratch posts offer a dedicated surface for cats to satisfy their scratching instincts and protect furniture.
Easy to Clean: 
Soft cushions that are easy to remove and wash. The waterproof engineered wood surface makes the cat tree easy to clean and maintain.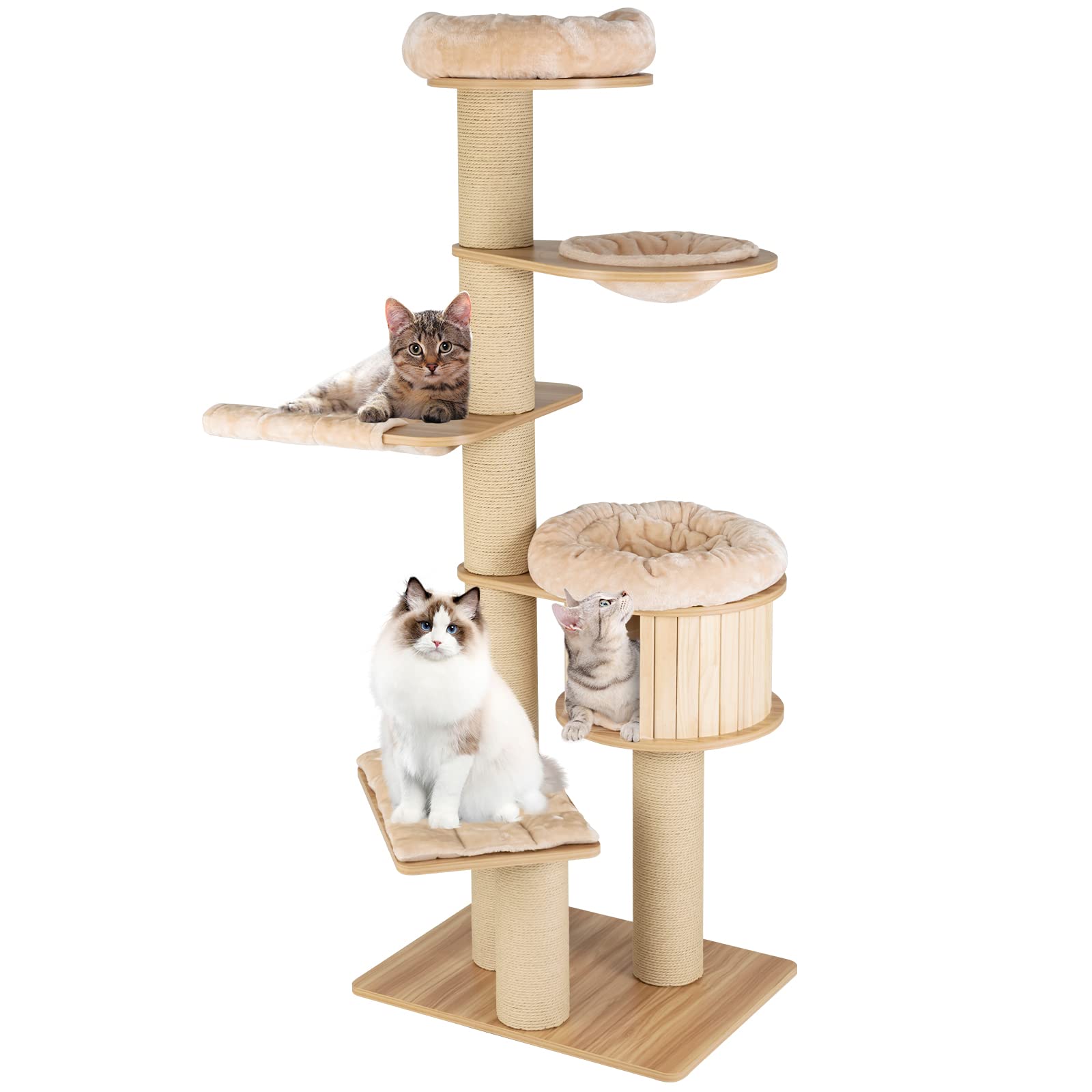 Details:
Material: Engineered Wood, Pine Wood, Paper Rope
Overall size: 29.5"x 22"x 75"(L X W X H)
Top Perch Size: 19.5"x 19.5"x 4.5"(L X W X H)
Basket Bed Size: 14"x 14"x 3"(L X W X H)
Net weight: 61.5 lbs
Max Weight capacity: 33 lbs
Customer Reviews:
" pulled the trigger on this thing after a couple of months of thinking about it and checking out many other cat trees. This thing is exactly what they say it is and more. The setup is a dream, about twenty minutes of carefully screwing the pieces together. I had exactly the amount of bolts and screws needed and the included Allen wrench made it very quick. This thing is a beast compared to every other tree I looked at, note the 6" diameter supports. It's the real deal and both my cats love it. Very satisfied customer."
Features:
Stylish Design: 
The small cat tree is an aesthetically pleasing addition to your home decor.
High Load Capacity: 
The cat tree house can hold up to 44 lbs, so cats of considerable size can play safely without any worries.
Rugged Posts: 
The cat tree lasts longer because sturdy posts withstand scratching and climbing without harm.
Reinforced Base Board: 
The reinforced baseboard additionally ensures overall stability, preventing wobbling or tipping, especially when the cat jumps in or out.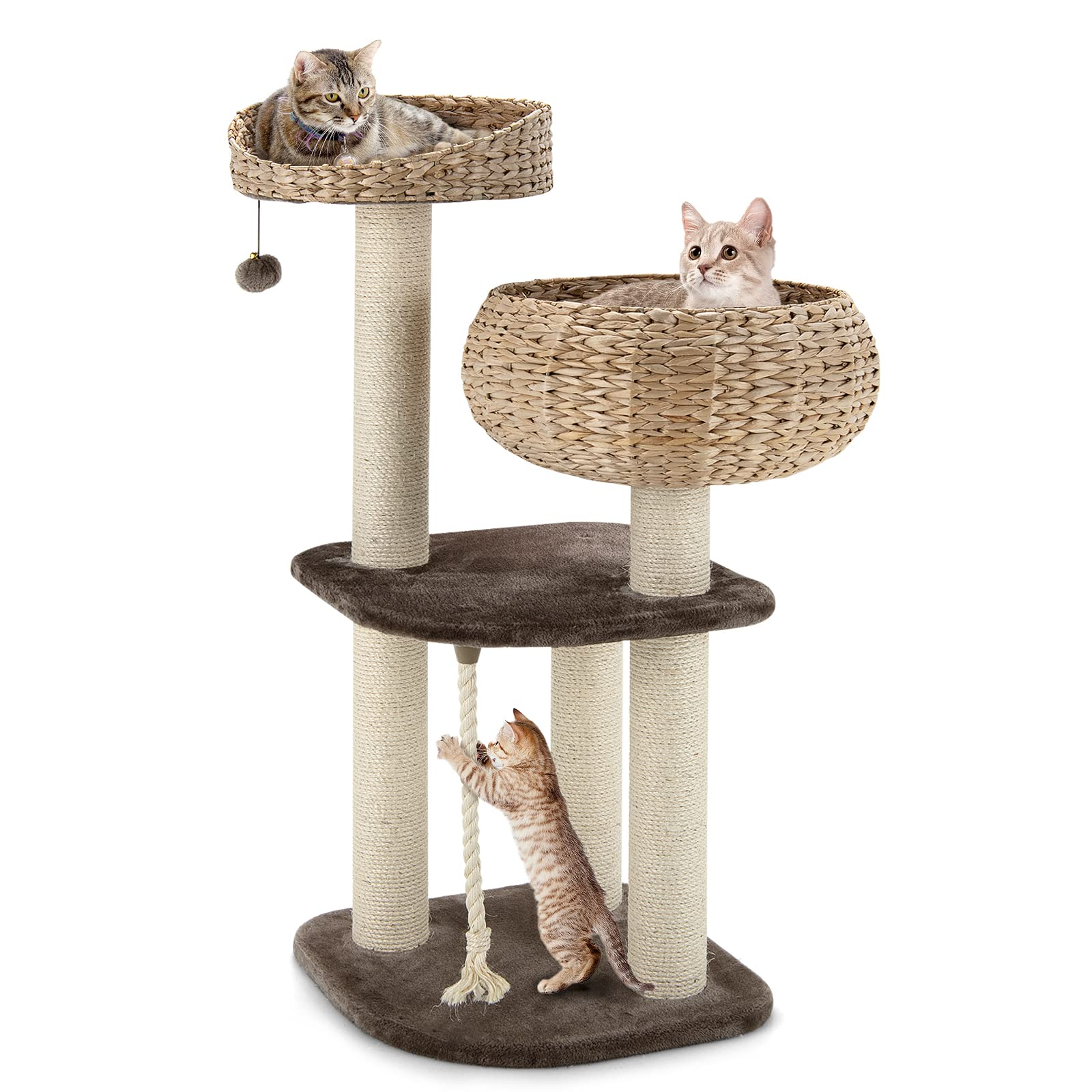 Details:
Material: Water Hyacinth Straw + Sisal + Particle Board
Overall Dimension: 18"x18"x41" ( L x W x H)
Platform Size: 14"x14"x4"( L x W x H)
Condo Size: 18" 18" 8"
Net Weight: 21.5 lbs
Maximum Weight: 22 lbs( L x W x H)
Customer Reviews:
"Easy to assemble and the best part is its stability! My 2 cats love to chase each other and race to the top - very stable and do NOT tip! Other stands start losing stability after a few weeks and this is solid after several months. I recently bought a second for an additional room. I also love the way it looks -not only solid but decorative and no ratty carpet! I love this one."
Features:
Multifunctional Design: 
This cat tree meets various needs of kittens, including perching, resting in a large and deep condo, climbing, and self-grooming.
Secure Condo: 
The large cat tree condo creates a sense of security, allowing kittens to curl up and snooze in a protected space.
Cat Arch for Self-Grooming: 
The cat arch is a self-groomer and massager, helping control fur shedding and keeping kittens entertained.
Suitable for Various Cats: 
The cat tree is good for overweight cats who don't exercise or scratch furniture. A versatile cat condos for large cats.
Details:
Color: Beige
Material: Engineered wood, sisal rope
Overall dimensions: 23.5" x 23.5" x 69.5" (L x W x H)
Size of the condo: 15.5" x 19.5" x 13.5" (L x W x H)
Size of the top perch: 18" x 18" x 3.5" (L x W x H)
Weight capacity of each layer: 33 lbs
Net weight: 55 lbs
Customer Reviews:
"Took time and better Allen wrenches, but every hole was where it should be (did you others try flipping them over, reversing them & such?) Once together, well you can see it was enjoyed. Very stable and secure. I like no carpet that shreds in time, but a couple of shelves are slippery. I'll come up with something. But great that it is indeed wood. You do need a little space, which we are working on, but not a whole room, like some. I'm glad I bought it! I'm sure it will last forever. Even beds can easily be cleaned or replaced in time. Much better than carpeted trees long term. We have a great one, but I have to periodically replace some areas of carpet. Won't ever happen with this one!"
Features:
Natural and Unique Design: 
The cat climbing tree consists of natural and solid pear wood trunks, ensuring each piece is unique and visually appealing.
Durable Jute Ropes: 
The trunks have strong jute ropes for cats to scratch, satisfying their instincts and protecting furniture.
Cozy Hammock: 
The middle platform includes a cozy hammock, providing a comfortable spot for cats to nap and unwind.
Removable and Washable: 
The hammock and all plush cushions are easily removable and washable, ensuring a clean and fresh environment for cats.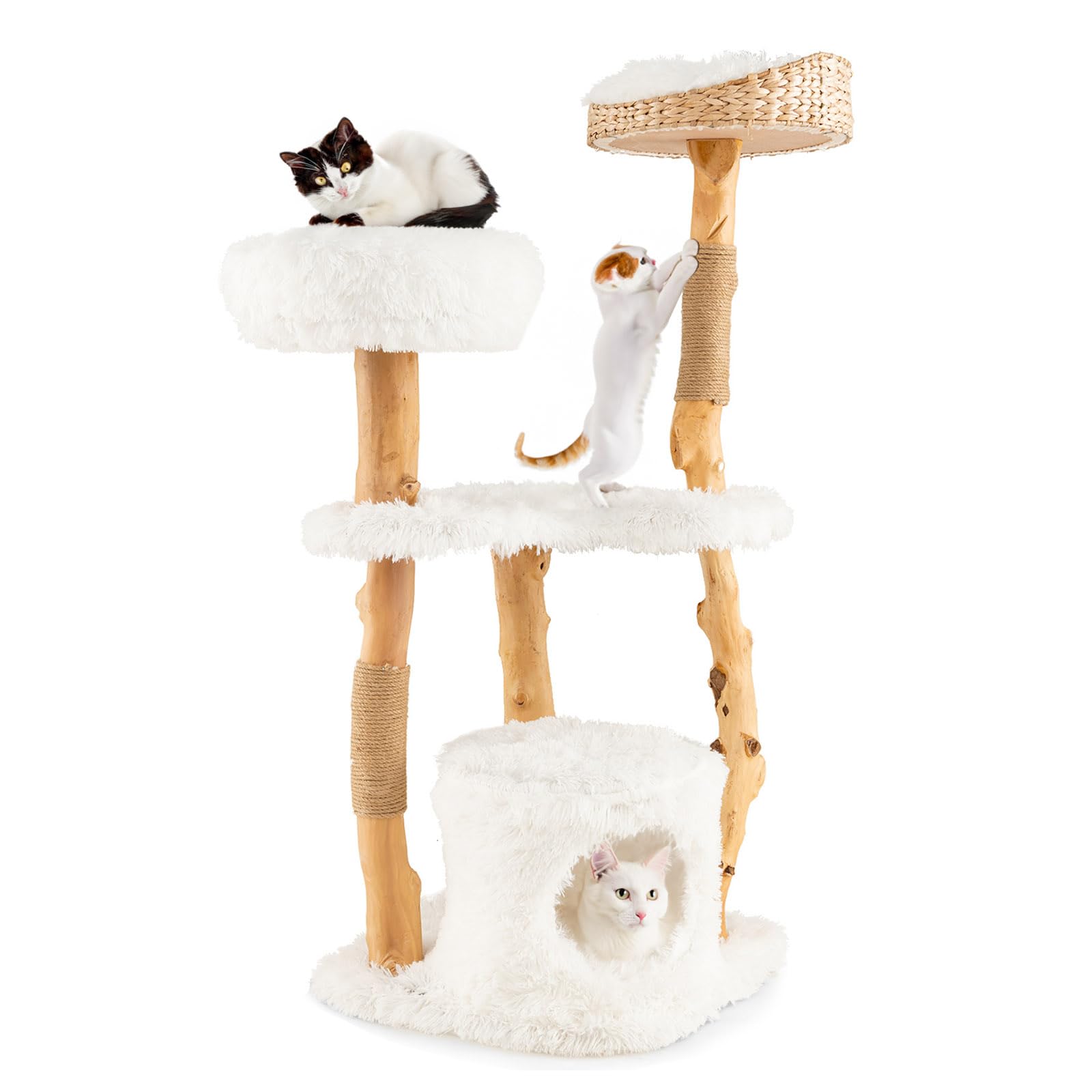 Details:
Color: Natural + White
Material: Pear Wood, Jute, Plush, Engineering Wood
Overall Dimensions: 16.5" x 16.5" x 34"(L x W x H)
Diameter of the Top Perch: 16.5"
Diameter of the Side Platform: 14"
Weight Capacity of the Top Perch: 22 lbs
Weight Capacity of Each Side Platform: 22 lbs
Weight Capacity of the Hammock: 13.5 lbs
Net Weight: 23 lbs
Customer Reviews:
"My kitties love it. They scratch it, and not my furniture. They love to cuddle inside the top basket to take a nap. It's also the most attractive cat tree I've ever seen. I am amazed at how good it looks in my living room. It was, as advertised, extremely easy to assemble, and it arrived quickly. If there was any downfall, it's that there's no little puff."
Features:
Ample Space: 
With 67" in height, the cat tower provides ample space for cats to climb, play, lounge, and observe their surroundings.
Multiple Levels: 
The cat tree features multiple levels, offering different vantage points for cats to enjoy.
Hammock: 
The hammock adds an extra cozy and comfortable space for cats to relax.
Stable Structure: 
The wooden cat tree is sturdy with a wide base to keep it stable when many cats play at once.
Easy Cleaning: 
Removable cushions and sisal covers are easy to clean. Your furry friends will live in a hygienic environment.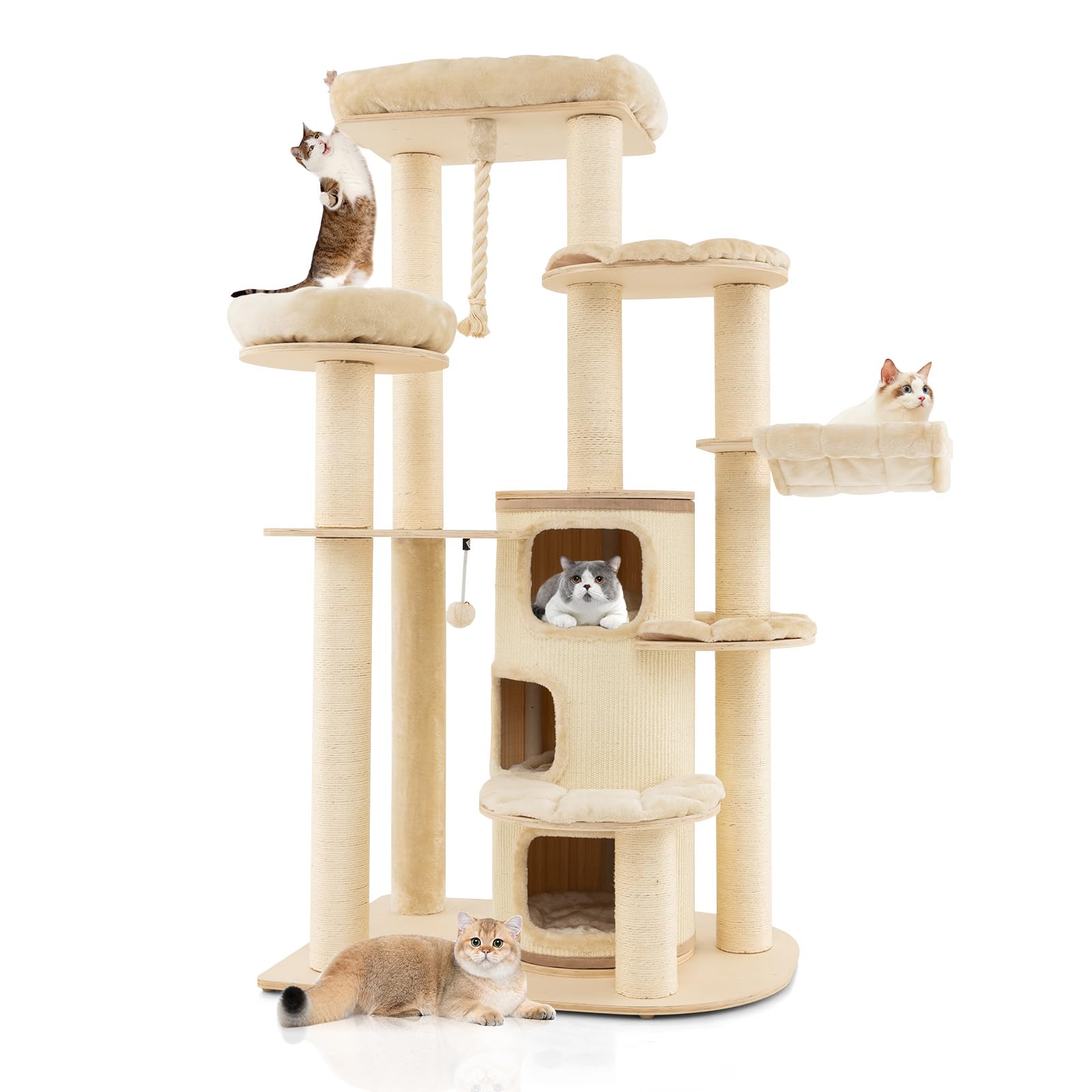 Details:
Material: Solid Wood Multi-layer Laminated Board, Sisal, Plush
Product Dimension: 37.5" x 27" x 67"(L x W x H)
Scratching Post Diameter: 4.5"
Condo Entry Size: 9" x 7"(L x W)
Condo Size: 16" x 35"(Dia. x H)
Top Perch Size: 27" x 19"(L x W)
Round Perch Diameter: 16.5"
Net Weight: 72 lbs
Each Tier Maximum Weight: 44 lbs
Customer Reviews:
"Very sturdy feel to it. Also love the removable cushions. Nice and soft. My cats haven't inspected it as much but I know they'll be loving it soon."
Features:
Luxurious 7-Layer Design: 
The cat tower has 7 layers for cats to nap, jump, sunbathe, play, and more.
Rotatable Padded Jumping Platforms: 
The rotatable padded jumping platforms are interactive and fun for furry friends.
Thickened Plush Covering on Supporting Posts: 
Thickened plush covers some supporting posts, providing better protection and durability compared to thin coverings.
Mohair Plush Fabric: 
Covered by mohair plush fabric, the unique cat trees offers warmth and comfort without pilling or shedding.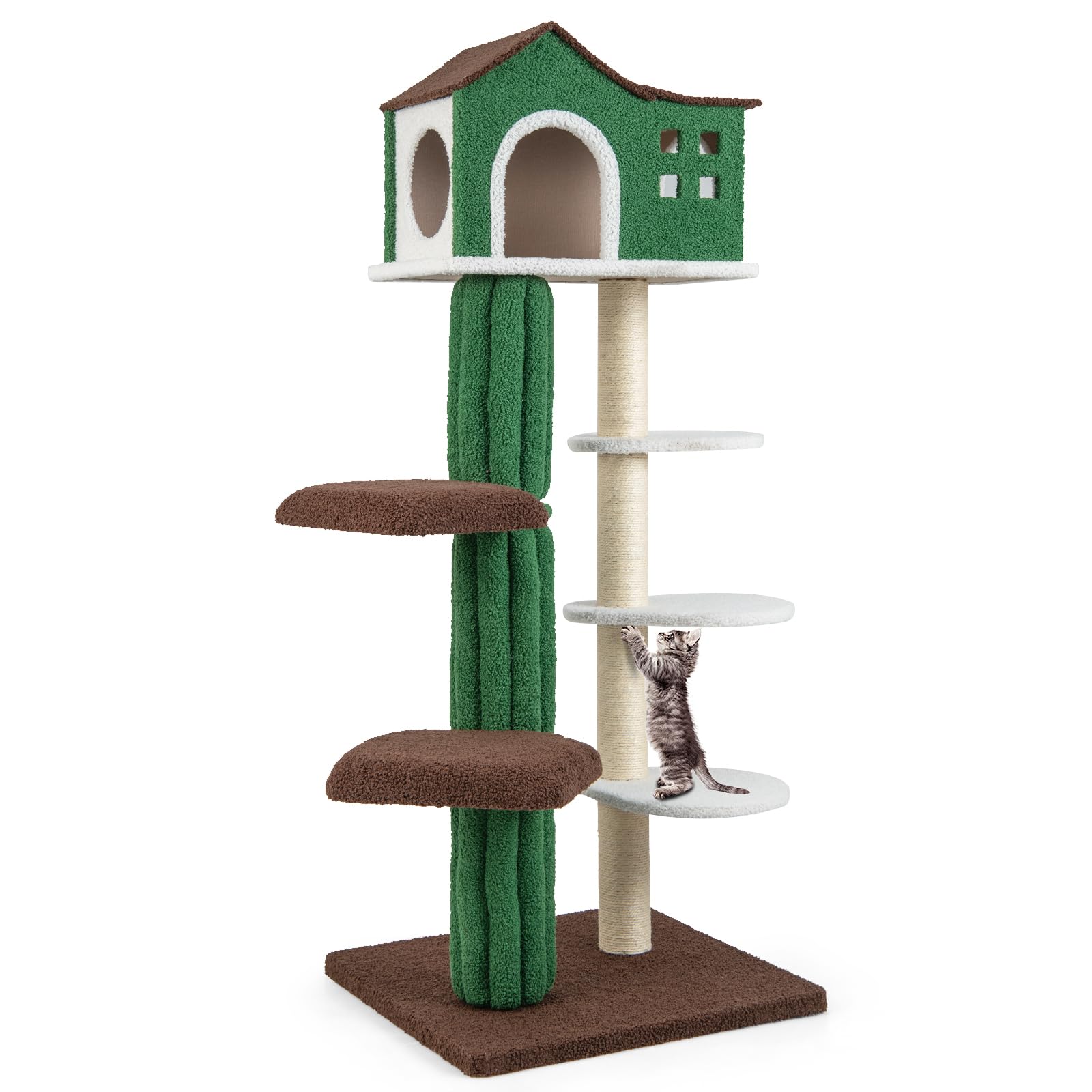 Details:
Material: Sisal, Mohair Plush Fabric
Overall Size: 23" x 23" x 61"(L x W x H)
Cat Condo Size: 21.5" x 12.5" x 15"(L x W x H)
Brown Platform Size: 17" x 11.5"(L x W)
Each Layer Weight Capacity: 22 lbs
Customer Reviews:
"The first thing that struck me was the solid construction of this cat tree. It doesn't wobble or feel flimsy, even when my cat goes on wild climbing adventures. This tree offers multiple platforms. It satisfies her instincts perfectly. Easy to assemble. The instructions were clear, and all the necessary tools were included."
Features:
2-in-1 Design: 
This cat tree with litter box enclousure has a special area for the litter box, making it convenient and hidden.
Odor Control: 
The cat litter box enclosure helps avoid unpleasant smells. It ensures a clean and fresh environment for both cats and owners.
Air Circulation: 
Many holes in the secret cat bathroom allow air to flow, keeping it fresh and bright inside.
Anti-Tipping Fitting: 
With an anti-tipping fitting, the cat tree is stable, preventing wobbling or tipping over during cat activities.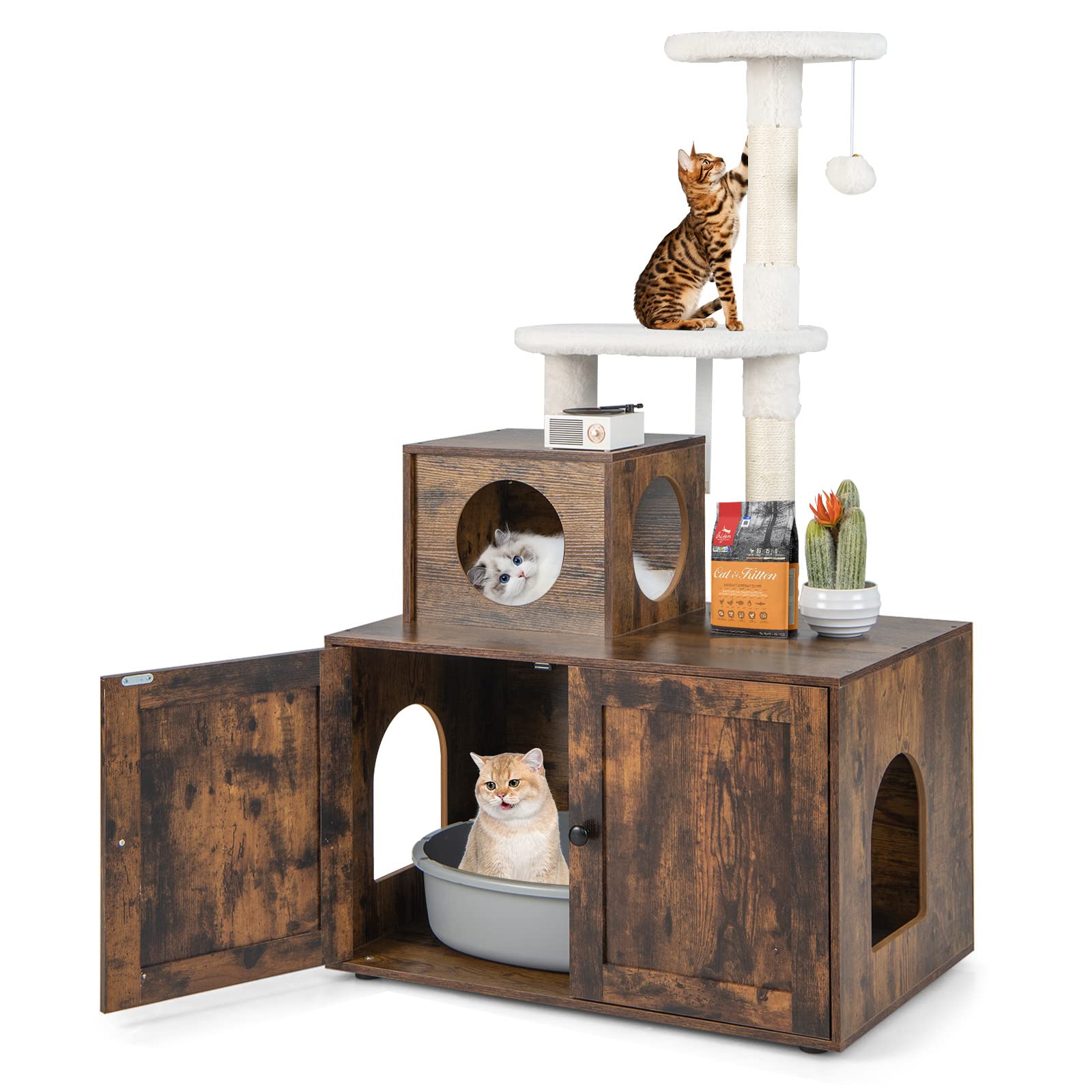 Details:
Material: MDF, Engineering Board, Sisal, Plush Fabric
Overall Dimensions: 30.5"x 19.5"x 52"(L x W x H)
Size of the Cat Litter Box Enclosure: 30.5"x 19.5"x 19"(L x W x H)
Size of the Interior: 20.5"x 18.5"x 17.5"(L x W x H)
Size of the Cat Condo:13.5"x 12"x 10.5"(L x W x H)
Weight Capacity of the Tabletop of the Cat House: 110 lbs
Weight Capacity of Each Layer of the Cat Tree: 44 lbs
Net Weight: 41 lbs
Customer Reviews:
"Beautiful private house for our fatty cat (most important- he fits there lol). It took me less than an hour to put it together- easy peasy I would say. I chose to not use it as a litter box and instead used it for resting reasons, a place for my cat to lounge in. My cat instantly crawled all over it, used the scratching posts, and can be found playing and lounging throughout the day/night! Great purchase, definitely recommend for every cat owner."
Check our website for more details on cat tree buying tips and other aspects of cat tree selection. Don't miss these exclusive deals to give your furry friends the best!
Tangkula Black Friday & Cyber Monday sale is from 11.16 to 11.27 . With the code: black , you can save 7% off on all products!