It's time to prepare for back-to-school! Dorm life can be confusing if you're leaving home for the first time and living alone outside. This is because you'll be sharing space with roommates. Privacy and shared space sometimes incur conflict if you handle it inappropriately.
Students need private space and storage room in their dormitory. Let's check what kind of college dormitory furniture will upgrade the dorm-living experience in the new term!
Functionality and comfort:


Almost everybody thinks that their bedroom is the most cozy place in the world. A soft bed, cozy blanket, and thick twin xl mattress are the must-haves for a bedroom.




Comfort should be the top priority for college dorms. The dorm can only fit 2 or more people, as new students bring all their stuff from home to school. And therefore plenty of under-bed space and ample storage cabinet indicate a comfortable dorm life. Hence, space optimization is also important.


Tangkula 9 Cube Bookshelf


It can serve as a storage cabinet as well as a side table. The height of the bookshelf is 29", which is suitable beside the bed. Students can use the bookcase for storing their books and other items. Additionally, they have the option to place decorations or a power strip on top.




Overall Dimension:

43.5"x 13"x 43.5" (L x W x H)


Dimension of Each Cube:

13"x 13"x 12.5" (L x W x H)
Space optimization:
All kinds of shelves, cabinets, and desk organizers are essential in the dorm. Space-saving furniture like loft beds and folding chairs help to save more space in the room. Here are some recommendations for storage furniture:
Foldable Drying Hanger:The drying rack is an essential thing in the dorm, especially since there is no automatic dryer in the dorm. Students need a drying rack to hang their wet shoes, towels, clothes, socks, etc. However, some dryers are not foldable, which wastes a lot of space when not in use. 
Tangkula 4-Tier Clothes Drying Rack
This clothes drying rack has 2 side wings with 7 holes on each side. The bottom features a shoe rack, which allows 3 pairs of shoes to dry.
The first dryer is only for drying clothes. The second dryer has a rack below it. You can use the rack to hang coats. This makes the second dryer more versatile. 
Elevate the Bed:
Bed risers lift your bed, creating space to store clothes, shoes, luggage, and seasonal items. Students can use labeled storage containers to keep things organized and easily accessible.
Storage Ottomans:
A storage ottoman serves dual purposes. It offers a comfortable seating option and a hidden compartment for items like extra blankets, pillows, books, or electronics. They are also a great choice for under-bed shoe storage.
Tangkula Outdoor Wicker Storage Box:
You can open this ottoman from the top cover and front cover. This storage facility features inserted shelf to ensure your organization. The large load capacity of the shelf is 110 lbs, which ensures most pillows, blankets, books, and clothes.


Dimension of Closing Box

: 45' x 23.5' x 25.5' (L x W x H)


Dimension of Fully Open Box:

85' x 23.5' x 48' (L x W x H)
Vertical Shelving Units:
Vertical shelves take advantage of the height of your room, providing ample storage without taking up much floor space. Arrange books, decorative boxes, plants, and other items on these shelves to keep things organized and visually appealing.
Floating Shelves:
Floating shelves are versatile at various heights on your walls. Use them to display books, photos, plants, and decorative items. A floating shelf at desk height can act as a workstation in the dorm.
Hanging Organizers:
Hanging organizers with pockets are perfect for storing shoes, accessories, toiletries, or even snacks. Hang one on the back of your closet or bathroom door to keep items neatly arranged and easily accessible.
Coat Rack Freestanding
When talking about the coat rack, the freestanding rack with hooks is more useful by the door. Students need to hang their bags, coats, keys, etc when stepping into the dorm. 8 hooks can meet the need of 2 people.
Drawer Dividers and Organizers:
Drawer dividers help keep your desk, dresser, or closet drawers tidy and organized. Use them to separate socks, underwear, stationery, and other small items, making it easier to find what you need.
Under-Shelf Baskets:
Under-shelf baskets are a great way to add extra storage space to existing shelves. Use them to hold items like notebooks, electronics, art supplies, or even snacks, freeing up your desk or shelf space.
Corner Shelves:
Corner shelves are often underutilized spaces. Add corner shelves to show off decorations or store necessities, maximizing space in your room.
Tangkula 10-Tier Tree Bookshelf with Drawer:
This bookshelf is suitable for corners. 10 shelves can store many books for college students. College students often have many professional books.
These shelves provide space for students to keep their books organized. The multi-tier design allows students to sort their books into different subjects or grades. And the inserted drawer is also suitable for other daily sundries.


Overall Dimension

: 15"x 8.5"x 59"(L x W x H) 
Cabinet Organizers:
Maximize the storage potential of cabinets by adding shelves, hooks, or over-the-door organizers. These additions make it easier to keep your belongings organized and accessible.
Magnetic Strips and Boards:
Magnetic strips or boards are especially useful for small metal items. Attach them near your desk to hold paper clips, scissors, and notes, freeing up desk space for other tasks.
Foldable Furniture:
Foldable furniture can stow away to save space when not in use.
Tangkula clothes rack can hold a lot of weight. It is also extendable. When you are not using it, you can fold and store it under the bed. And the rolling casters make it possible to roll everywhere you need.


Dimension

:
35"x 4.5"x 39"(Folded)
35"x 19"x 39"-66"(Extended)
Mobile Storage Carts:
Mobile storage carts with drawers offer a flexible storage solution. Use them to organize craft supplies, beauty products, or other small items, and easily move them around as needed.
Tangkula Rolling Printer Cart with 2 Storage Shelves:
This is a good helper in the dorm and office space. A small rolling cart can store office supplies, make-up, books, projectors, etc. It enlarges your storage room in the dormitory.


Dimension

: 19"X16"X26"/30"(L x W x H)
Clear Plastic Containers:
Clear plastic containers are great for seeing the contents at a glance. Use them for shoes, toiletries, accessories, or even snacks, keeping your dorm room organized and clutter-free.
Tangkula Portable Clothes Closet Wardrobe:
It features 16 cubes and 8 shoe racks with environmental material. You can see what's in the shoe collection without opening every cube. But the container is not transparent. Your privacy is safe in the box.


Overall Dimensions

: 57.5"L x 14.5" W x 71.5"H


Size for bigger Cubes

: 14" x 14" (L x W)


Size for smaller Cubes

: 7" x 14" (L x W)
Use the Inside of Doors:
The inside of doors can provide valuable storage space. Attach hooks, adhesive pockets, or small shelves to store items like shoes, accessories, cleaning supplies, or even small kitchen utensils.
Tangkula recommends hanging or placing a long mirror. The right standing angle will show your perfect figure. Want to be a dorm outfit blogger? Check the mirror!


Dimension

: 63"(L) x 14.5"(W)
Durability and Maintenance:
Select durable furniture that can withstand frequent use and minor wear and tear. Easy-to-clean materials and finishes are essential to simplify maintenance.
Privacy Considerations:
You need to keep the balance between shared spaces and private areas. If you take privacy as the top priority, use curtains or dividers for sleeping areas and study nooks. It provides personal space when you need it.
Technology Infrastructure:
Check if the dorm provides adequate power outlets, USB ports, and internet connectivity in convenient locations. Students rely heavily on electronic devices for studying and leisure.
Lighting:
Proper lighting is crucial for studying and creating a pleasant atmosphere. To make your room more lively, you can use a table lamp or hang string LED lights on the wall.
Space Heater:
A space heater is more practical than the heating mode of an air conditioner. Warm air rises, so it's best to place a heater on the ground for better airflow. Or, the warm air will stay in the upper space of the room while people still feel cold.
Tangkula Oscillating Ceramic Tower Heater: 
It's small but ejects strong energy. It can rotate from side to side within 72 degrees to warm the room fast asn evenly.


Dimension

: 8.5"x9"x30.5" ( L x W x H)
Desk Fan/ Ceiling Fan:
Unlike the space heater, fans that transport cool air should be in upper space, like the ceiling or the desk. Desk fan ensures specific people enjoy the cool air, in case anyone hates the coldness of the air conditioner. 
Tangkula 14 Inch Desk Fan
We designed the touch screen for the convenient adjustment of functions. And the clear LED screen provides a better view of the present information. The size is suitable for small or large spaces, like an office desk or any large area. 


Dimension

: 5" x 5" x 14"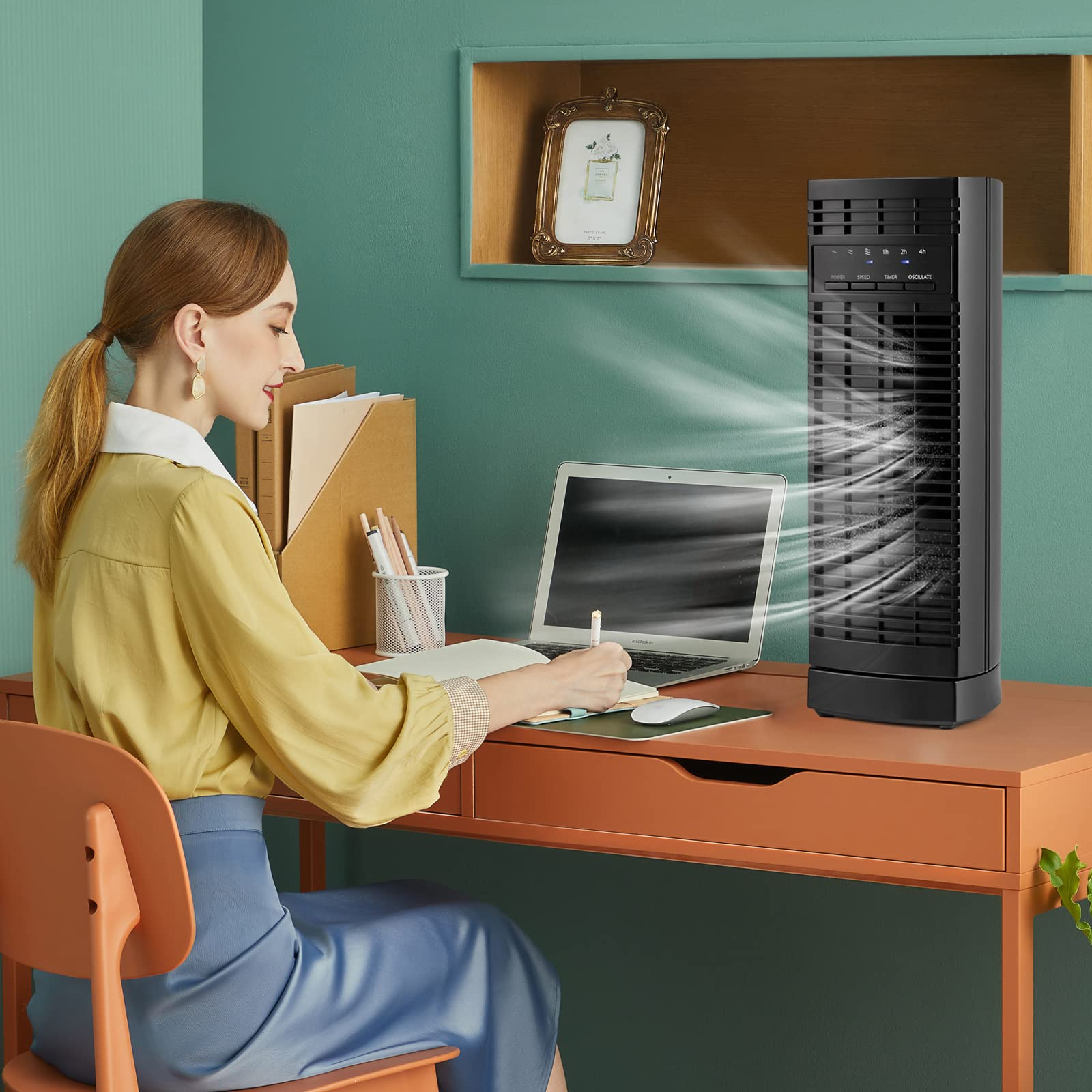 Aesthetics and Ambiance:
Choose a cohesive color scheme and aesthetic that resonates with roommates. Decorative elements, artwork, and plants can contribute to a welcoming ambiance. But remember not to damage the wall, which is hard to recover.
Sustainability:
Please opt for eco-friendly and sustainable furniture choices if possible. Consider the materials used, manufacturing processes, and the potential for recycling.
Regular Maintenance:
Regular maintenance is necessary for all rooms, or they will become messy. You can make a deal with your roommates to clean the room in turn. You also need some house cleaning equipment, like brooms, mops, toilet brushes, etc. 
The most important point is that you should comfy with the rules of your school. The letter coming with your admission letter will list some dos and don'ts. Check it carefully. Enjoy your school year with Tangkula!
If you want to know more about dorm furniture buying guides, check the article below.
Check "Back to Campus Sale" on the front page to find more dorm decor, storage units, and other dorm room essentials!